SEA LION ADVENTURES! FROM PROJECT 007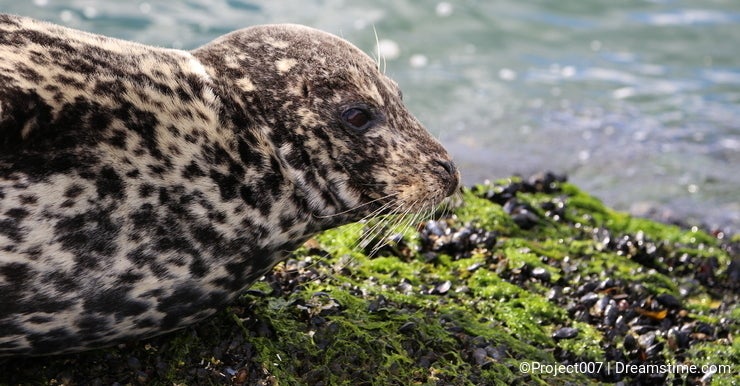 HI EVERYONE ! I WANTED TO SHARE MY ADVENTURES WITH THE SEA LIONS ON MY LAST TRIP TO VANCOUVER! IT WAS THE PLAN TO JUST GO FOR A HIKE ALONG THE OCEAN THAT DAY AND CAPTURE PICTURES OF THE VIEW.
WELL, AS I HIKED UP THE HILL, I SAW THERE WAS A HUGE AMOUNT OF TOURIST POINTING AT ME AND YELLING AT ME TO RUN FAST BECAUSE I WAS AT THE BOTTOM OF THE HILL WHERE THE WATER AND THE ROCKS WERE, BUT, CAMOUFLAGED BEHIND ME WERE BABY SEA LIONS!
THE TOURISTS WERE SHOUTING AT ME TO BE CAREFUL BECAUSE THERE WAS SEA LIONS SLEEPING BEHIND THE ROCKS..RIGHT BEHIND ME!
WOW...I TURN AROUND AND YES THEY WERE SLEEPING ON THE BEACH NEAR ME....SO I DECIDE TO TURN AROUND AND APPROACH THEM SLOWLY AND TRY TO ENGAGE IN THE ANIMAL KINGDOM! HA HA..
WELL I CAUSED QUITE THE DISTURBANCE WITH THE FRIGHTENED TOURISTS THEY SAID THEY WERE DANGEROUS AND I WAS A SILLY GIRL TO BE APPROACHING THEM...
I LOVE NATURE AND NATURE LOVES ME AND I KNOW HOW TO BE GENTLE WITH NATURE AND I GUESS THEY SENSE IT....I SAT WITH THOSE LIONS FOR ONE HOUR AND A HALF WITH MY CAMERA TO GET CLOSE ENOUGH TO TAKE THESE PICTURES...THE CLOSE UP WAS ME STANDING 6 INCHES AWAY FROM THE SEA LION.
ME AND THE SEA LION BECAME FAMOUS THAT DAY....ALL THE YELLING TOURISTS STOOD THERE IN DISBELIEF AND STARTED TAKING PICTURES OF ME WITH THE SEA LIONS...:)
I JUST ENGAGED THE CREATURES LIKE U WOULD ANY KITTEN...AND THEY WOKE UP AND POSED FOR MY CAMERA....HA HA...
NO THEY ARE NOT DANGEROUS AND NO THEY DID NOT FREEK OUT OR ACT AGGRESSIVE. ANIMALS SENSE IT WHEN YOU ARE GENTLE...AND ONLY THE GENTLE AND PATIENT PHOTOGRAPHERS WOULD DARE DO WHAT I DID THAT DAY...BUT IT WAS SO COOL TO SEE THEM RESPOND TO MY VOICE AND TO MY CAMERA...AFTER I LEFT THE LIONS, THE TOURIST CLAPPED AND HUGGED ME AND ASKED ME HOW I HAD THE GUTS TO DO THAT...HA HA...
TO ME ALL ANIMALS ARE LIKE KITTENS...SO I WILL BE ON THE HUNT TO FIND MORE NATURE STORIES TO SHARE IN THE FUTURE! IF YOU ARE GENTLE ANY ANIMAL WILL LET YOU PHOTOGRAPH THEM IN MY OPINION :)
HOPE I INSPIRED YOU TO GET OUT THERE AND FIND NATURE! HAVE A GREAT DAY!

Photo credits: Project007.