Shoot'em Up, Then Shoot Some More; Four Years With Dreamstime
Since my first Dreamstime upload a little over 4 years ago I have planned to blog about significant milestones; first anniversary, first 100 sales, first 1000 uploads etc. However, for various reasons, including tick bite fever (do not try this at home), I never got around it.
So, why blog now? My uploads this morning are 7100, a nice round number, but significant because my 1 January 2018 goal was to get 7000 uploads by end October, with 8000 by the end of the year. My other stats are 818 sales, 93.7% acceptance ratio, 0.09% database exposure (puts 7100 uploads into perspective!), and 1.09% portfolio exposure (whatever this means).
So, what does this all mean? 7100 uploads is a 50% increase during the year to date; up 2362 from a base of 4738 on 31 December 2017. I achieved this by submitting lots of higher quality images; pretty simple, not to mention obvious.
But enough of stats and ratios. To put things in perspective, I recently searched my uploads for "Rome" and, given the number of photos I shot there, was surprised that very few images came up. Sure, I did take lots of photos in Rome, but never got around to looking at them properly and submitting the many more good ones. As I said in my Dreamstime bio, I have been taking photos since 1978 but continue to learn, and these are the most important things I have learned in my 4 years with Dreamstime:
1. Shoot lots of photos, and then lots more. Really work a subject; up, down, all around, turn around, wide, close up, details etc. Yes, I know that when you walk around a subject the lighting changes. It may be raining, but so what. The "optimal shot may be a.m one view, p.m the other, or tomorrow, or next year. Don't over analyse it, just make it work and take the bloody shot. You might come back later, but you might not. If the best camera is the one you have with you, the best place to take photos with it is where you are, and the best time to take them is when you are there. Maybe I will write more on this if I get around to deconstructing "travel photography".
2.Take lots of photos, but put the same amount of thought into each one; random ad hoc photos will get you nowhere.
3.You now have lots of good quality photos, so make use of them. Go through your files, including archives (all well organised and accessible of course!). I find this hard to do. My eyes drift to the most appealing images, and I need a concerted effort to go back and look at bypassed images. My top tip here is to go through each set of images, systematically of course, at least 2-3 times. You will probably see things differently each time. This also helps if your eyes and brain get jaded by looking at too many, for example, Greek Island photos. Go have a break, or look at your pet photos for a while, and then come back.
4.Carefully edit your many selected images; most of my images are not ready to go straight from the camera. Some say that if you have to crop, you got it wrong; you should have used a different lens (I prefer to take the best photo with the lens I have available rather than go home empty handed), or you should have used your feet to move to a better viewpoint (ha, try doing this on the edge of a cliff and see where it gets you).
5.Now go ahead a submit lots and lots of high quality images, leaving very few behind in the vaults. This is, of course, my least favourite part of contributing to Dreamstime; uploading and keywords. Don't ask me for any tips on keys words because I don't have any.
All totally obvious, but I still have work to do in all areas, without it getting in the way of having fun. Fun is till what it's all about for me.
Here's an image (heavily cropped by Dreamstime to fit the blog format) that illustrates some of my points. The Eiffel Tower on a dull day, when I was in Paris on a dull day. My description is "La Tour Eiffel, Tower, Paris, France, silhouette against gloomy sky", and a buyer searched for almost exactly these key words..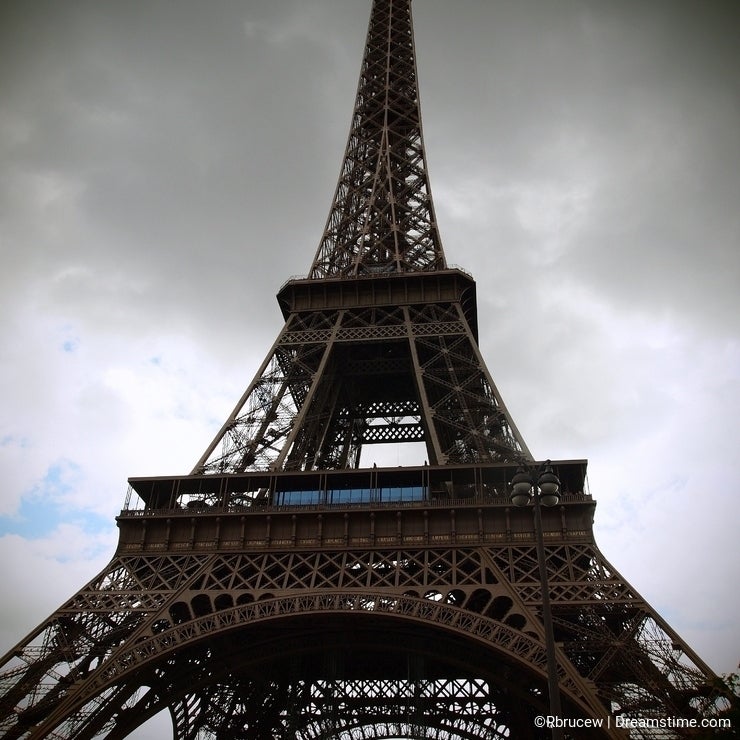 Until next time, happy shooting!
Bruce
Photo credits: Bruce Whittingham.