Shooting Fireworks at National Events
Many countries have extravagant fireworks displays to celebrate major events. New Years is a popular one almost everywhere, Independence Day in the USA and many others. But how best to capture the excitement of those celebrations when everything seems to conspire against us photographers - it is dark, it is crowded, the fireworks are moving flashes of light and are very bright - what other challenges do we need!!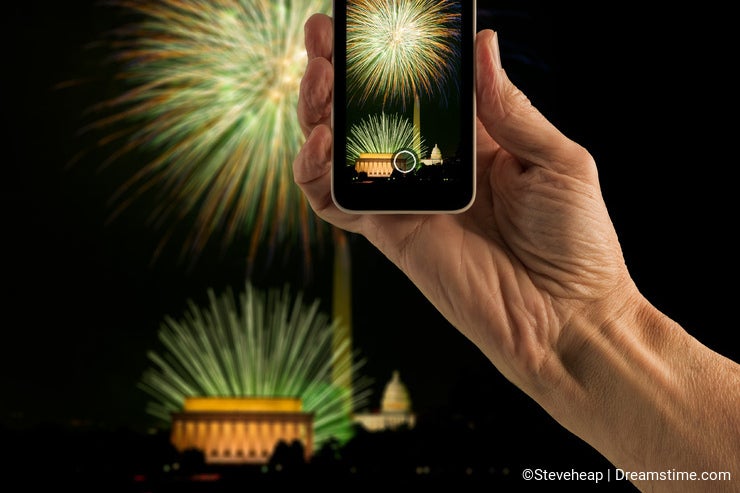 The key starting point is to plan and then plan again! Images of fireworks in the dark sky are fine and can make a good stock image to be composited into another concept. Especially if you composite several firework bursts into one image, it can create a nice background for a more complex piece that the designer is trying to create.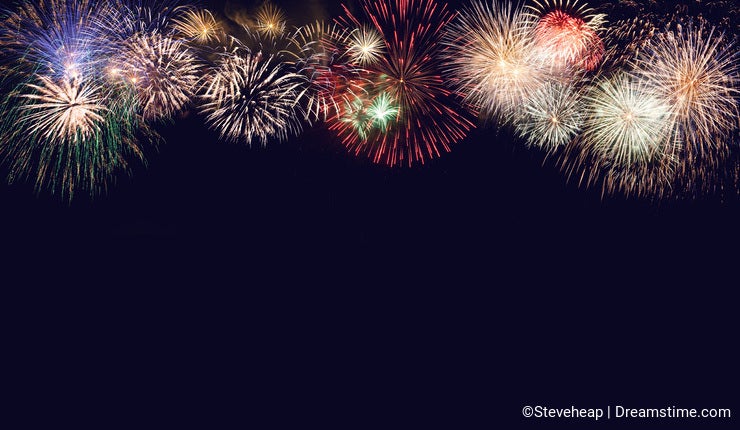 For more interesting shots we are looking to capture both the fireworks and the place the celebration is taking place and so we need to do our research well before the event. We need to know exactly where the fireworks will be launched from, where the best overlooks are that capture both the fireworks and the memorable views of the city, what time the show starts, when the crowds will gather, where the best place is to stand and be able to use your tripod without having someone in front of you, what time you will have to arrive to get that spot, and, finally, do you need to find somewhere for a bathroom break!
You can research this by looking for blog posts by other photographers who have taken images of the same celebration in earlier years. Look as well for great examples of photographs of the fireworks and try to work out where they were taken from. This preparation is critical if you are going to be taking memorable images rather than snapshots of fireworks.
Your final bit of preparation on the night is to decide what equipment you need for the images you have in mind. You may not be allowed to take a big backpack to some events and keeping track of your expensive equipment in the dark in a crowd can be a challenge, so take just what you need for that event - nothing else! When you arrive, I always think it is a good idea to set up near a photographer who looks like they know what they are doing. You might learn something and you will have someone to watch your equipment if you need to leave it for any reason.
It is likely still light at this stage and so make use of the time by capturing some shots of the city.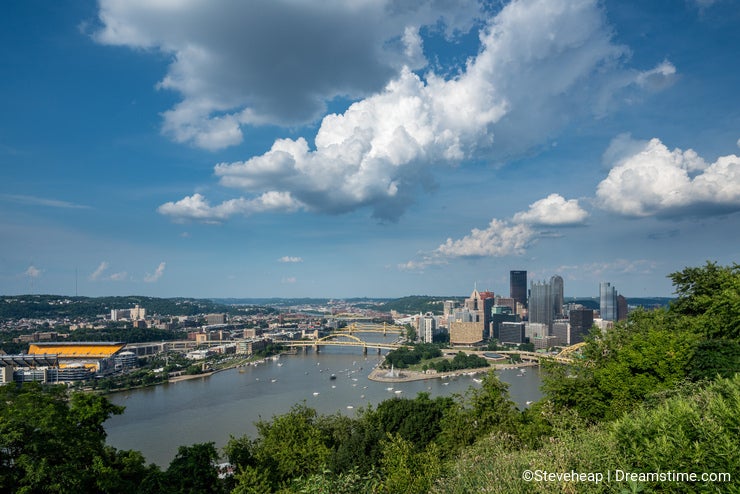 This will allow you to try out different compositions and also get your focus set by focusing on the buildings in the city and then setting the lens to manual focus. For my example shots of Pittsburgh, I had decided on a 16-35mm F4 lens. That gave me plenty of room to zoom out widely if the fireworks went higher than I expected, although because I had researched other photos from the same viewpoint I was reasonably sure how high they would go above the city. Generally, zooming in and out on a good lens will not impact the focus, but it is always worth checking from time to time and zooming into a photo after you have taken it to confirm everything is sharp. For most cameras, taking the lens or the camera off its anti-shake settings is a good idea when you are on a tripod.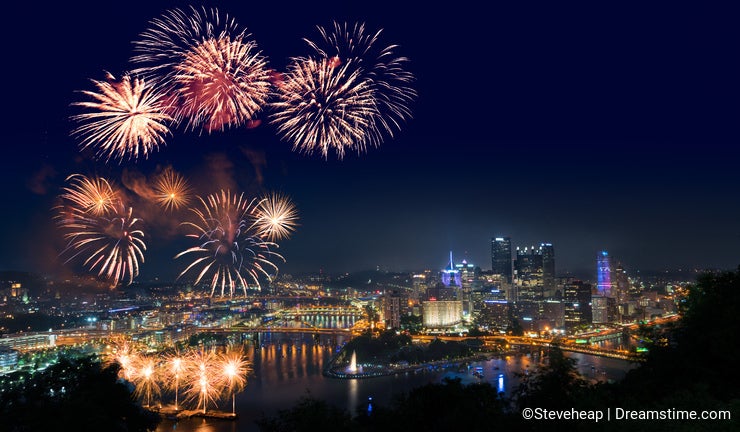 So on to camera settings. Fireworks are really moving spots of light - our eyes tend to make it appear as one big pattern in the sky, but a short duration photo from a camera would just show these individual spots. So we need an exposure of around 4 seconds to get a good combination of firework trails and often several different explosions in the same shot. I decided F8 was a good compromise on the aperture - there is nothing close to the camera and so everything should be as sharp as it gets with that lens. As the night deepened, I was able to capture more images of the city without overexposing the lights - these shots can be very helpful when you are creating your final images if you happen to blow out the city lights during the firework exposures and they are always useful as stock photos!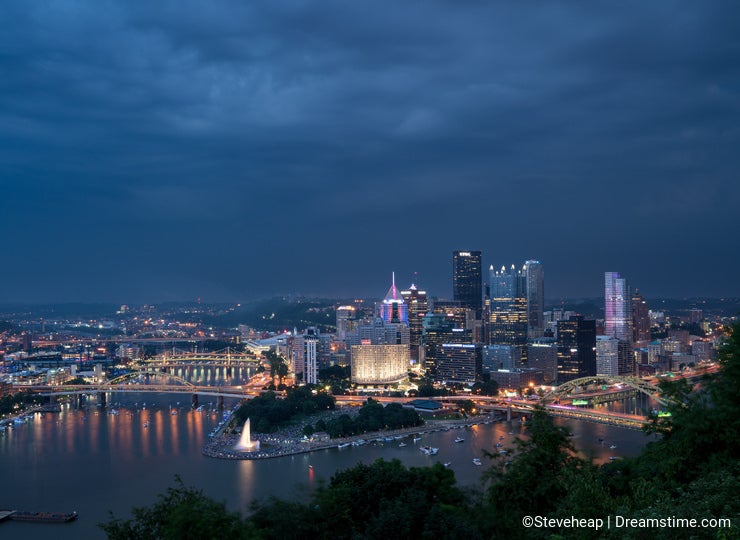 Finally, as the show started, I found that ISO 200 worked best for me in getting the fireworks trails and the city reasonably exposed. So my final choice for exposure was ISO200, 4 seconds at F8 with raw as the file type and I set the light balance at daylight although that doesn't really matter with raw files.
Use a remote release for your camera - pressing the shutter button with a 4 second exposure will often give you some blurry results and you can't use the internal timer instead because it will be too difficult to judge when to take the shot. You are really looking to take exposures when the fireworks are first released so you get the trail into the sky plus the explosion. Keep taking them - it is better to have too many exposures than too few. When the show finally ends, don't move your camera or zoom settings and take some images just of the city - take a range of exposures as though you were planning an HDR shot so you have good exposures of both shadows and highlights.
Post processing is where you can really make a difference. Images of city skylines are normally taken with a cooler light temperature to match the lighting in the streets and windows whereas fireworks look best with a warmer setting. So you can use your final city shots to create a great image of the skyline using that cooler setting. Darken the sky as well, as the sky normally would be black or dark blue when the firework show starts.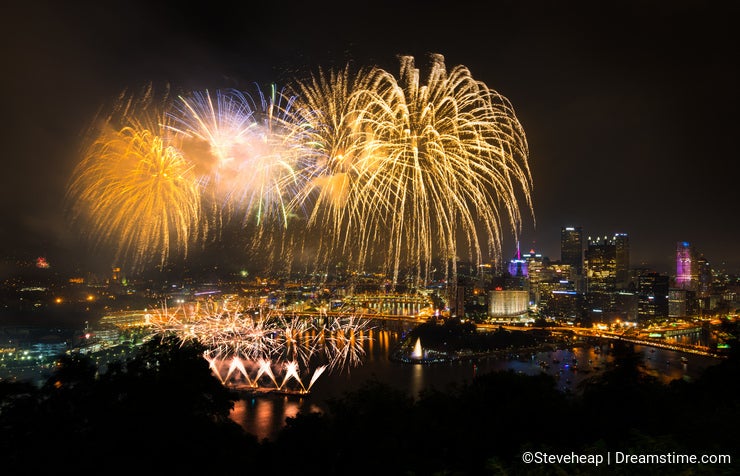 Then adjust your firework shots to a warmer light balance and bring back the highlights if they are too blown out. The final shots of a firework show are often overexposed because the organizers tend to throw everything they have in the air! There is often a lot of smoke at that point and so you might not be able to do much with them - but you have all the others! Try to get the best contrast you can between the trails of the fireworks and the sky and try to reduce the brightness of the smoke if you can. If you then open both images - city and fireworks - in Photoshop, there are two (at least!) ways to blend your fireworks into the city skyline. You can change the blending mode for the fireworks layer to Lighten and that will only show the lighter parts of the image, the firework trails, in the composite. Or you can double click the layer and play with the "Blend If" controls which allow you to be more precise about which levels of brightness actually show through. Try holding down "Alt" key while clicking one of the sliders to split into two to give more control. I found the latter to be better at showing the fireworks but hiding some of the smoke. Using a mask helps hide smoke that still gets through. You don't need to stick to one set of fireworks. You can blend in multiple exposures to make a more balanced result over the city. Remember you are after an image that wows the client, not one that is a historical record of the event. And don't forget to describe and keyword your best shots with the name of the city or location to make it easier to find.

Please make use of the "Useful" button if you have found this article helpful and I hope it will help you plan for your own fireworks show. Good luck!
Photo credits: Steveheap.