One of the most confusing aspects for new contributors to stock photography is when and what type of release is required when submitting images to an online stock agency. Let's deal with the Model Release first (and save the Property Release for later).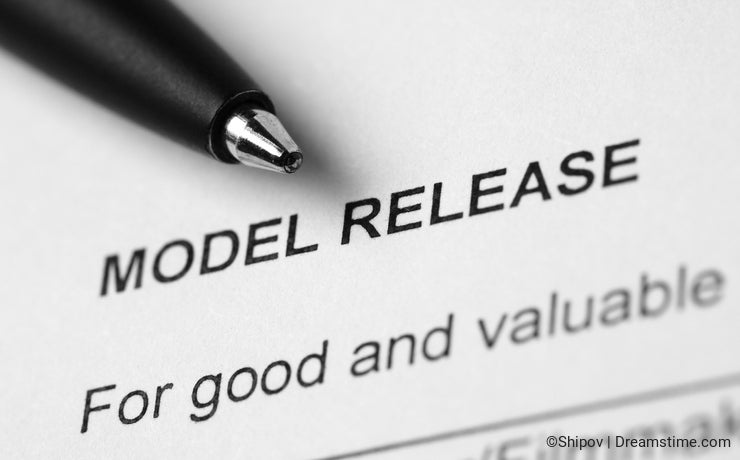 The simple answer to this question is ALWAYS obtain a model release if possible. The more complete answer is that a valid Model Release is required for all images in commercial applications when there are recognizable people present. Now let's break that statement down.
Valid release
The easiest way to ensure that the release you use is appropriate is to use the one provided by your stock agency. At a minimum, this should include:
•The photographers (your) Name, Address, Phone/E-mail contact information and a valid signature and date
•The Date and Place the image was taken
•The Models Full Name, Address, Date of Birth, Phone/E-Mail contact information and a valid signature and date. Useful information to gather is the ethnicity of the model and a Photo ID.
•A Witness valid signature and date
•For models under the age of 18, you will also need a Parent/Guardian valid signature and date
For on-the-go photographers, it is helpful to have a cellphone app like Easy Release that allows you to easily gather the information and generate a release on the fly.
Commercial application
When uploading images to stock agencies, there are generally two categories of use – Commercial and Editorial. Editorial content can be used to illustrate truthful articles in magazines, newspapers, blogs or other media in print or online. All other applications are considered commercial in nature.
Recognizable people
A person is considered recognizable if their image appears in enough detail when the image is enlarged as to ascertain their identity regardless if there face is showing or not (meaning even pictures taken entirely from behind are considered recognizable if they appear in detail).
Additionally there are a few "special cases". A Model Release is required even if you are the photographer and model. Simply fill in both sections mentioned above. And a separate Model Release is required for each individual recognizable in the picture.
And that is Model Releases in a nutshell. Simple, right?