Sky is not the limit
It has to be said that a huge percentage of stock photography photos that sell extremely well are those ones classed as 'Background' photos.
What exactly is a 'Background' photo?
Well, any photo that lends itself to an ideal background shot that can be used by publishers and professionals to then add their own text or caption to, or insert a supplementary photo on top of your background photo.
Background photos can come in many forms such as textures, colours, patterns etc or even clouds and sky shots can be ideal photos for backgrounds if tweaked up in photoshop.
Type in the word 'backgrounds' in Dreamstime and to date, you get just over 1.6 million photos to look through! That could be intimidating enough, but I like a challenge, and therefore I like to use my own background shots to create and go a step further into the conceptual realm of stock photography!
Below is a typical example of what a sky background can be used for, and is one of my best selling background photos which has had an old bible superimposed into the sun rays depicting spiritual divine light.
Sky photos are great background shots as they lend themselves to all sorts of themes, and this is why they sell very well in the stock photography market.
Below is another example of an ordinary cloudy sky which has been carefully worked on using certain tools in photoshop to highlight certain areas of the photo, such as the silver lining in the clouds and the sun rays, and then adding the final touch...a rainbow arcing over the clouds.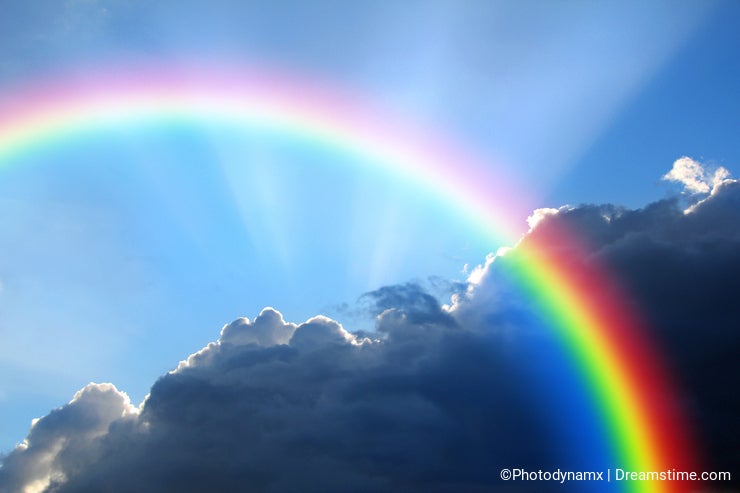 The sky images above are extremely versatile as background photos, and can also be ideal for creating your own concept ideas.
I always like to take shots of unusual skies and clouds for this reason, and I have these types of files stored separately from all my other files and listed under the heading 'Backgrounds' so that I can locate them quickly for use as background photos.
The image below is a concept photo of a dream sky ride through the rainbow, using the background photo above of the sky and rainbow, but with the addition of a vintage Ford Fairlane made for the American market and sold between 1955 - 1970.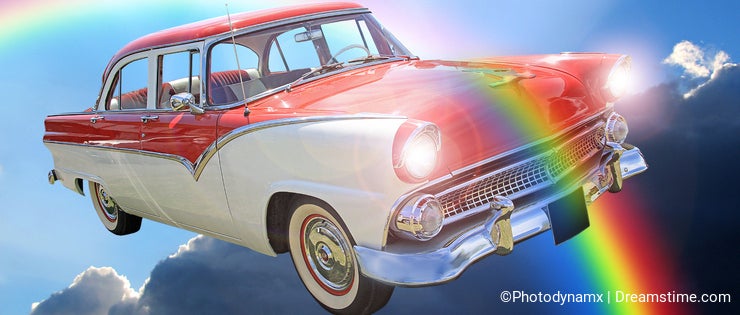 So, it is a good idea to keep a look out for scenes that make an ideal background shot, as these are a fun way to create your own stunning images or just to sell so that publishers can add their own graphics to them!
Photo credits: Photodynamx.