Spend the time where it counts
One of the things I learned relatively early on was to spend time here on things that mattered for sales. It is great to create an eye catching image but if it gets no sales it is better off in your own personal portfolio. Creating composite images can take a lot of time, so you need to be pretty convinced it will reap rewards in terms of sales for you before you spend more than a few minutes on an image.
One of my favorites is this one I used to illustrate the concept of pollution and clean air. It is three images, one of a zipper close up, one from China, and another from Canada (the one with blue skies!). It was pretty simple to mask off the zipper using Photoshop tools to cut out the area I wanted the blue sky to shine through, and trivial to create a selection on the other side of the zipper for the pollution image. When I shot the zipper image I did it on a white background to make selection easy.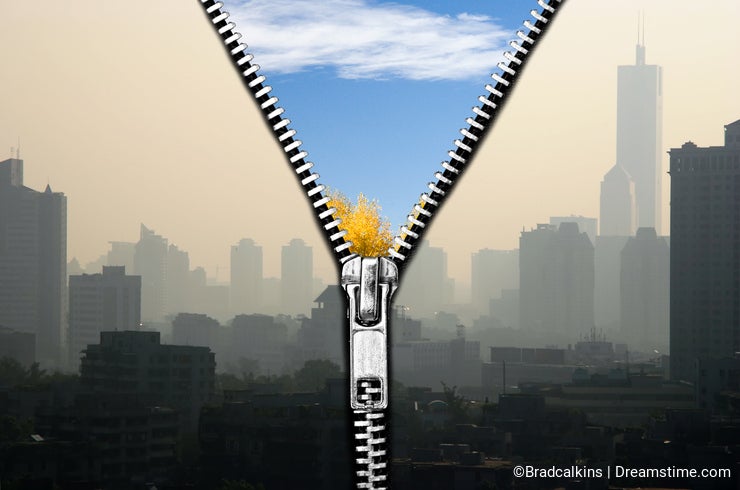 Here are a few principles I use when deciding on whether to do a composite or not:
1. First and foremost, how much time is the image going to take you? I have a regular job, so it is always a prime concern for me - I never want to work for $3/hr doing photos over my regular job! I estimate the potential return on the image, which for me ranges from $0.42 to $100 roughly. For $100 I'm willing to spend more than an hour on an image, but for a $5-10 expected return it has to be fast to process and submit.
2. Can the image be done without doing a composite? In this case, this image is a lot stronger for me than a simple shot of a nice blue sky to illustrate clean air or a pollution image. Clearly there are concepts that are almost impossible to create a stock image for without doing some kind of image manipulation. Trying getting a photo of 'fake news', for example...
3. Is there a lot of competition for the image? Ideally, if you are going to spend the time, it should be for something unique in the database. My image isn't completely unique, but it sure stands out more than a simple landscape. This ties into keywords, too.
4. Can I combine images I already have, or am I starting from scratch? Ideally I like to have ideas in mind that I work towards and avoiding spending a day getting multiple photos for one saleable image. I clearly didn't go to China just for this shot, but once I had it I was working toward a more complicated concept to sell, to boost the sales on this one image, without going out of my way to accelerate the process.
Photo credits: Brad Calkins.