Stand out from the crowd
In one of my previous blogs, I discussed how conceptual photography is designed with the intent purpose of conveying an idea, photography that is constructed or staged with a preconceived targeted audience or business in mind.
I like to construct conceptual photography that can also lend itself quite easily to many themes.
One particular tool that can be used in photoshop for maximum conceptual effect is 'colour popping' where one feature of the photo is in colour and the rest is in black and white.
One of my best selling conceptual photographs shown below using a Nikon P900, has had the 'colour popping' treatment applied to it, which carries the theme of 'Standing Out From The Crowd' in order to maximise the conceptual idea of superiority, getting noticed, one-upmanship, business success etc.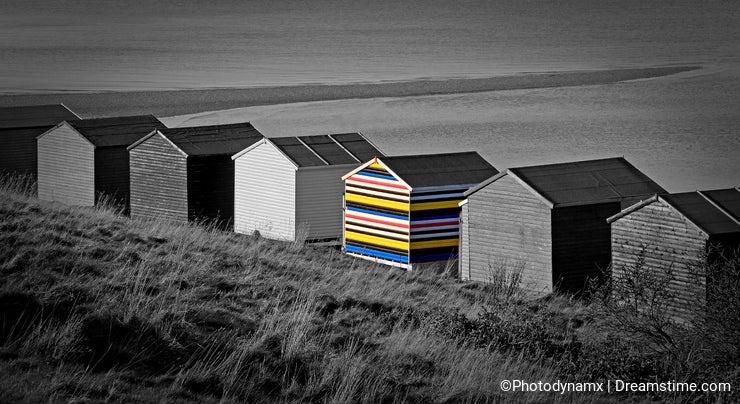 Colour popping a photo can look extremely effective if done properly, and is a great way to enhance a conceptual idea or thought. The photo above is highly generic, and can therefore be suited to many themes or ideas, not just specific to one, thus enabling it to generate more sales!
Colour popping a photo in conceptual photography can be visual striking, helping your photo to drive home a certain point or idea, and this is one form of photography that if done well, can attract sales, as publishers and business professionals alike realise that this type of concept can work very well to promote their business strategy!
Any business that wants to be successful wants to promote the idea that their company, their brand, their services is far more superior than the rest, and one way they can get that thought into the minds of the public or other competitors is through effective advertising...using a concept which conveys the idea of quality or superiority over all others!
Publishers and businesses are looking for stock photography that will do just that....making their services stand out from the crowd and ahead of the competition!
Your photography concepts using special effects like colour popping is like a two-edged sword...it can have the advantage over other types of photography, which not only make them visually striking, but they also contribute to the overall conceptual message that you and businesses want to promote.
Photo credits: Photodynamx.