The story behind the most downloaded image on Dreamstime
A trip down memory lane
2007. Seven year had passed since Dreamstime's take off. More and more photographers would join, building up the most wonderful community of stock photographers around the world.
February 8th, 2007. We don't know whether it was sunny, rainy, or just an average day when one of our contributors, Kelliem, decided to share with us an image of a newlywed couple kissing on a beach.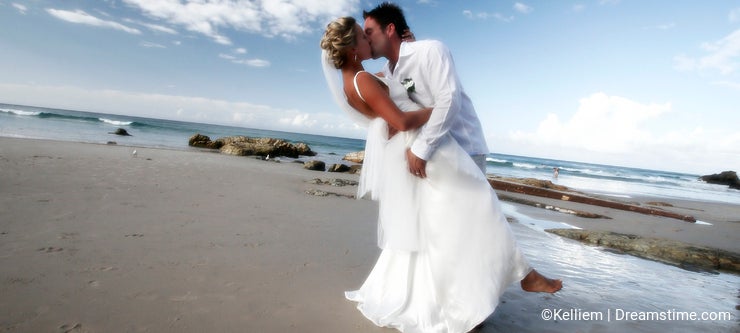 Short story: Bride. Groom. Kiss. Beach. Clouds. Sand. Sea. The White Dress. And looove. The image would breath so much romance, sensuality, happiness, chemistry and magic. In one word: emotion.
Through the years, this image has become the most downloaded image on Dreamstime. It still is. It has 1336 downloads as we speak. So we sent Kelliem an email hoping to hear back. She was happy to help us with some answers. Hope you'll enjoy them:
- What can you tell us about the story behind this image?
When I took this photo my intention was to show feelings of love and romance.
In a snap decision I asked the groom to lean the bride back and kiss her. I just think with the help of a perfect day, location, late afternoon lighting and angling the frame just slightly, it all happened naturally and they way intended.
- What made you choose a filter for your image knowing that we usually prefer images in their natural state without too many added frills?
I chose this filter to soften the photo, to essentially create the feeling of romance. I think for memory it was defused glow, reducing and illegitimating the amount in a lot of areas.
- You've started your stock portfolio when microstock was just incipient. How do you perceive it has changed since the beginning?
It's opened a lot more avenues, it was only photos when I started.
But progress is good. I have been quiet on the stock scene for a few years now, raising my family has taken first priority over my love of photography, I'm looking forward to coming back and taking on some challenges.
- If you could travel back in time, what advice would you give to yourself, the young photographer just starting out?
1. Learn as much as you can about your camera and equipment, especially manual mode.
2. Always back up your photos.
3. Shoot in raw and convert to jpg - this allows for simple tweaking and won't destroy the original image.
4. Be patient - you'll have images rejected. Use this as a tool to improve.
5. Plan ahead. I always imagine days in advance how I want a photo to turn out, I suppose like an artist, visualizes what they're going to draw or paint. By doing this I'm never disappointed.
I never pursued photography on a full time basis, I didn't want it to become a job and loose the love for it, so step back away from your camera for awhile if you're struggling. Feelings create images!
Photo credits: Kelliem.