Street Photography quick advice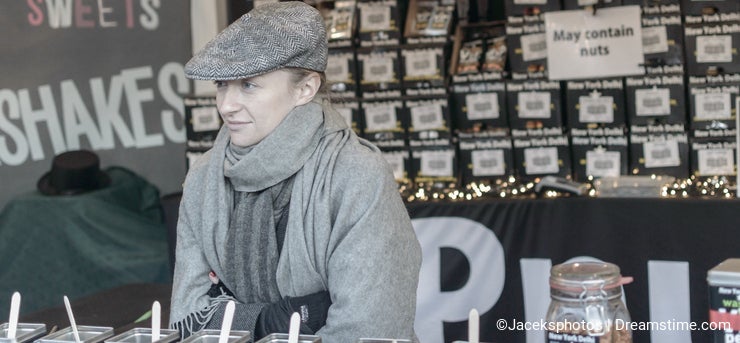 By researching the internet you can find a lot of information about street photography. In my opinion it is the most popular and interesting way of capturing life. Especially when our society changes all time. It is fascinating to be part of it and have a chance to document through images of our everyday life.
There are some basic rules, but all the rules can and should be broken. Many beginners try to copy others work, spending lot's of time browsing Flickr, and others websites with images. There are some advantages and disadvantages of doing this.
I believe that you must spend a bit time watching others work, but not too much. Definitely you don't want to copy others work, that road won't take you anywhere. It is good to know some styles, some inspirations, how you can capture the lights, game of shadows etc, but the most important thing is creating your own style. In street photography you have complete freedom with the end image. You can finish with a black and white image, colour or maybe sepia? It's completely up to you. In this moment, you are an artist, you represent your view. It's the world through your eyes.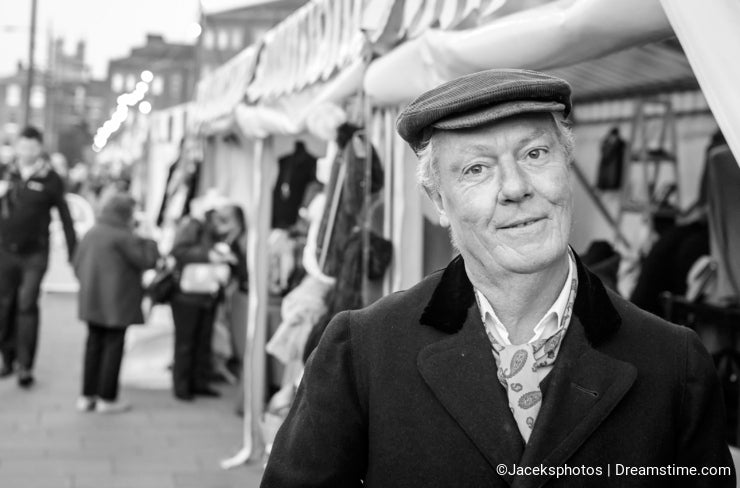 Below I will try to guide you through a short process of my way of thinking, before I press the shutter button. As an example I am going to use my experience yesterday, from a visit to the Victorian Christmas Market in Gloucester, England. Lovely place by the way, stunning Cathedral. If you are planning to visit Gloucestershire at some point, there are a few points of interest, but let's get back to our street photography topic.
First thing - attitude. I think this is the most important thing. I have a really good mood, I know that I am going to experience something new. I have been going to Christmas Markets in England for a few years now, but this was the first time I have had an opportunity to visit a Victorian one. All of this made me feel excited and ready to shoot.
Tech: Weather was a bit dark, not too much sun, mostly grey. I tried to set up my old Nikon d3200 to my favourite setup for street photography (shutter priority 1/160 ISO 200), but the images would be too dark to produce anything. I was forced to change to 1/60 ISO 800. Bonus of allowing more light to the sensor but more chance of getting blurry images. I was sure that continuously shooting was the way.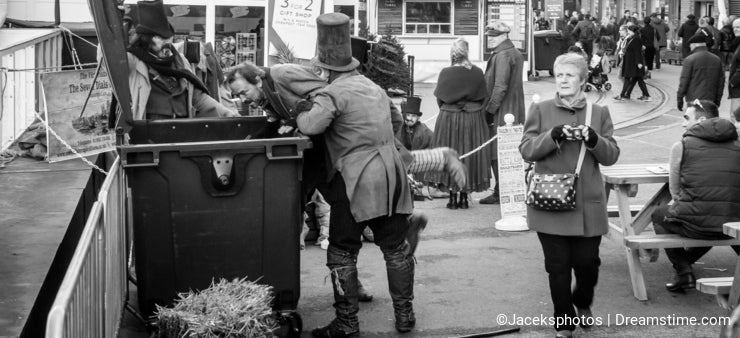 Second thing - smile. According to my first point, I get snaps of people by smiling at them. That helped me to get a positive response, people smile back, they treat me as a tourist, which is actually true, I don't live in Gloucester but in Bristol. After a few minutes of my warming up, candid photos vanished, people started posing for my snaps. I began finding it quite difficult to get a proper candid photo.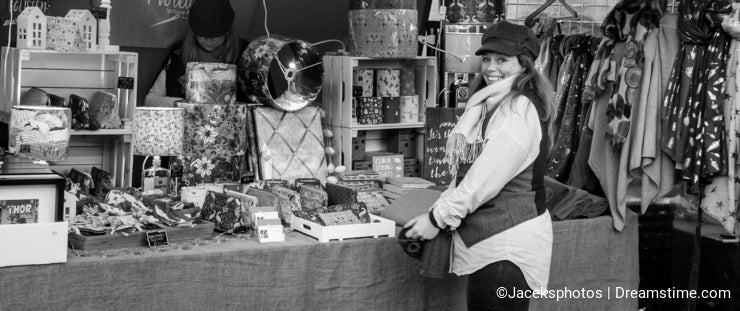 Tech: I used my old technique, watching in one direction, but in the last second twisting my body to snap another scene, chosen before and observed by side view.
Third thing – become part of the environment you are photographing. I am lucky to be able to interact easily with people. It's not only about smiling, but just say saying 'hello' and having a short chat. This allows me to break the distance rule, be more human instead of an odd stranger with a camera. Also I like my food, I can't resist eating something in the market and of course photograph the ladies who are preparing my food. Small things but they make everyone happy. I have the snap, which I wanted, and they sell me food. Everyone is happy.
I understand that, many people may say that these are easy targets, all these people want to be photographed. Some of this is true, but techniques added above can be easily used in everyday street photography.
Most important – don't be afraid. It is not illegal to take photographs. In my photography life I have seen many street photographers hiding in shade, it looks almost creepy, as though they are afraid to stand firm on the street. Remember, the more suspicious you behave, the more negative the response you are going to get.
Photo credits: Jacek Wojnarowski.
To provide you with additional information about how we collect and use your personal data, we've recently updated our
Privacy Policy
and
Terms of Service
. Please review these pages now, as they apply to your continued use of our website.