Tip of the week: Draw speakers and woofers for party backgrounds in under 10 minutes - Dreamstime
This quick tip is for beginners in photoshop or GIMP. Sometimes you may need a few things for your designs and find it time-consuming to figure out techniques to get things done. The most common pieces of illustrations on the internet are icons and buttons. Using the very simple technique of drawing a set of speakers and woofers/tweeters, you can also create buttons and simple dimples, bumps, etc. So let's get started and create some simple speakers that you can use in your party flyers and other backgrounds.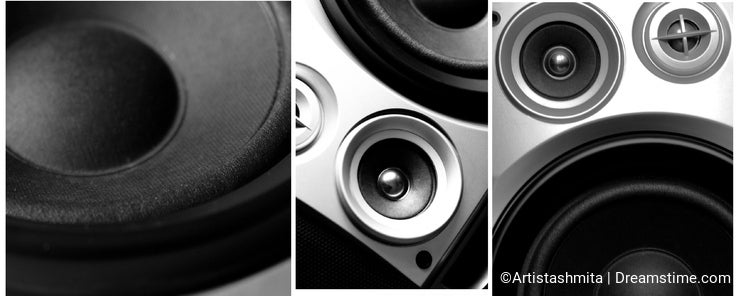 1). Open up photoshop or gimp whichever program you use. I am using photoshop just because I found the icon first on my desktop! Using either application is easy. Now create an empty document, you can choose white or transparent. Use transparent when you want to merge this with another scene. But as we will draw on layers it will not really matter. Choose the size you want. For convenience, something like 3000X3000 or upwards may work with your high-resolution project.
2). Create a new layer and select it. Hold down shift and draw a perfect circle. You can hold alt as well along with shift, if you want to start drawing from the location of your mouse. After the circle is drawn, choose the colors from the foreground and background pallet. I chose dark grey (almost black) and light grey. Now run the gradient top down. Once done, duplicate this layer. Unselect by clicking inside the selection with the selection tool.
3). Choose the move select and move tool. If you are in photoshop make sure "show transform controls" is checked. Now go to the layer you copied. Holding down shift+alt resize the circle a bit so you can form a border for the speaker suspension ring. Now rotate this layer 180* and you will see it shows very nicely as a separate part. Now duplicate this layer again, resize holding shift+alt (this makes it resize in the exact center and uniformly) and get it to where you think you want the speaker cone cap to be. Now rotate this 180* again and there you are.
If you want to show more detail like cone cap border, speaker outer border, etc., you can double click on the relevant layer and go to stroke and add a stroke. You can add metallic strokes by defining sharp gradients with a black and white gradient. Play with the gradient a bit and see what you get. For learners, it will be a good experience. You can also go to texture settings and choose a carbon fiber or pattern fill. Then choose multiply or hard light and set the opacity. You could also import a paper texture here for a more natural look.
Tip: You can group single speaker layers and copy the groups to create varied shapes and sizes.
Resizing the central dust cover, cone, and suspension ring, you can create the look of the tweeter, speaker and woofer and use it as you please. I hope you like this small tip and do leave your kind comments.
Photo credits: Artistashmita.