To sell or not to sell. What makes the difference?
If I was able to answer that question, I could become very rich in no time. Unfortunately I can't and when the first sales took place it was not the photos I had expected to have the best sales potential.
To start with a little background. I love photography and good pictures. My first camera, an Agfa 6x9 box type, was acquired when I was nine. Later came a german Balda, replaced by Minolta and Nikon SLRs. Much time was spend in my darkroom. Good old analog photography is still a part of my hobby. Russian Leica type cameras like FED 2 and Zorki 4 are my favorites. 50 – 60 years old and they still produce wonderful pictures.
My preferred equipment when I travel is an "old" Canon EOS 600D with Canon 15-85 zoom lens.
Not to big or heavy. Picture quality is OK. I always uses RAW and process in Lightroom. If a little more sophisticated adjustments is needed I have Perfect Effects, Perfect Layers, Topaz Adjust and Photomatix Pro in the tool box. Photomatix is also used for real HDR images. I never use Photoshop, What I can not do with the other tools, I just don't do. I never remove objects or combine pictures.
And – except for some prices in photo contests decades ago, I have never earned a penny on photography and never expected to.
2 years ago I uploaded 54 very different and carefully selected photos. Nothing happened – of course. Then suddenly after a few months, the first sale:

Search for: Stone fence. 50.000+ hits.
This picture. 3 sales so far.
Search for Iceland landscape. 100.000+ hits.
My best selling photo ( 4 sales) is one with hay bales!
Status today. 4 photos out of 54 sold with a total sale of 10. Not those I expected to sell. What made my photos stand out? Are they a bit different compared to most in the relevant category? Pure luck?
As it is obvious I am in no way an expert in stock photography and it is not my mission to suggest to others what to do, but I can reveal how I try to work.
Selection.
If I come home with 20 shots of the same motive, I select the 1 or 2 best and delete the others. Forget about using time on these later.
Some think "carpet bombing" is better and increases sales. I don't agree with that strategy.
Never work on JPG files.
Every time a jpg is saved, information is lost. Use RAW, TIFF or PSD and only convert to JPG before upload to DT.
Always do some processing.
Raw files tend to be dull and without vibrance, so at least some adjustments are necessary.
Cropping is important. Most photos improve by some degree of cropping.
Remove distortions if needed. Photos of buildings can be much improved.
Finish the work.
Finish the photo with relevant tools to the extent You would do it, if the photo was to be printed and put on your wall.
Some may argue that buyers prefer do do their own processing and won't buy an extensively processed photo. On the other hand, if the photo is not processed, it will not be noticed in the first place and therefore surely would not be sold. Offering the RAW file, could be a an option.
After what I consider more or less a success I selected some more photos for upload. Some are just more of what is already there, but you never know. Others are a little different compared to what is already in the category. It will be interesting to see if they sell. A few examples.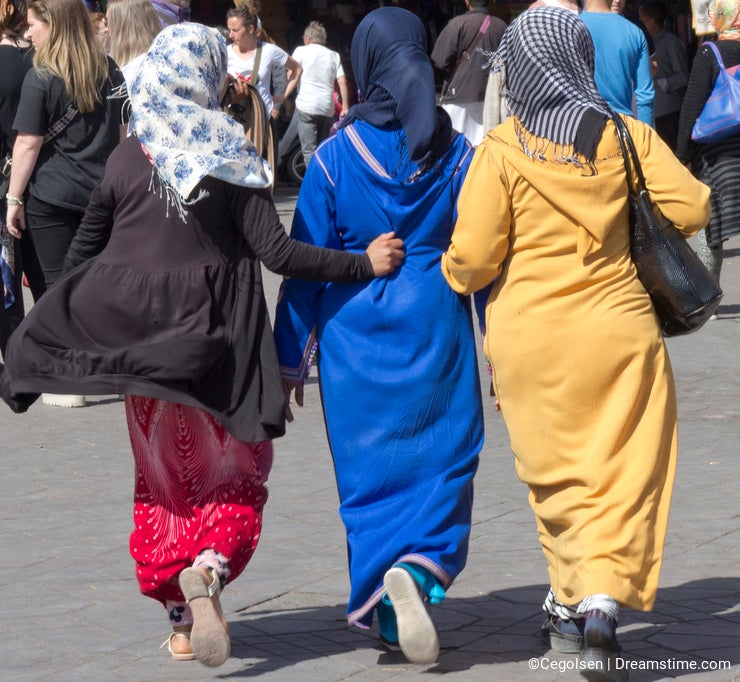 It seems that everyone is going to Morocco these days. Wonderful country by the way.
Try to search for: people / women and Morocco / Marrakesh /
Fez etc. in various combinations.
Many thousands hit every time, but not many like this one. Cropping to the limit is the key to reveal the intimacy between the women.

Morocco again. Many pictures of small shops with clothing, pottery, food and all kinds of souvenirs . I was lucky to discover this extremely minimalistic pottery store. A no nonsense picture without disturbing elements.
Buildings with glazed tiles, Azulejos in Lisbon Portugal. Thousands of photos. Forget it.
Took some work to made this one. At least it stands out from the crowd.
Now, time to wait.
Comments are welcome.
Photo credits: Carl Erik Gerner Olsen.