Travel destination - Portugal Algarve
Last year i had a chance to visit Portugal south coast. Of course i took my camera and shoot some nice landscapes. The days were always sunny, clear blue sky perfect weather i wish i could stay longer ... If you want to visit Europe warmest places Portugal must be on your wish list i highly recommend :)
This beautiful little chapel sits at the edge of the cliff.
Doubt continues to exist as to the origin of the Chapel of Nossa Senhora da Rocha, as well as the original fort that existed on this site. The privileged location on a promontory reflects the importance of the site, which was fortified to help secure the coast from Ossonoba (Faro) to Lacobriga (Lagos), as well as protecting the beach and maritime access. The 8th century is normal used as a reference, suggesting a construction based on the reuse of existing Roman-era elements


No trip is complete without some sort of memento or souvenir taken away from it. This is as true when visiting Portugal as it is when visiting any other country. However, Portugal really does have a uniquely rich culture that manifests itself in so many interesting materials you can buy and take back as a souvenir. So, instead of walking into tourist traps and falling for the little gimmicky stuff, there are so many more meaningful things you can get in Portugal that can last a lifetime (in some cases) and make you feel like you are bringing part of the culture home with you.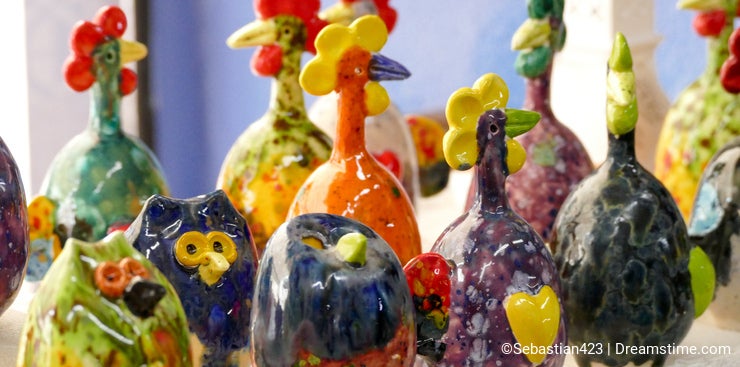 As mentioned, Portugal is a nation with a rich culture, especially when it comes to the crafts and fine arts scene. Its wealth of crafts includes everything from excellently woven baskets to beautifully embroidered linens, and everything in between. Other great crafts for your home from Portugal include delicate porcelain and pottery pieces (colorful Portuguese bowls are particularly popular)
If you're a fan of water sports this place is for you :)
I've enjoyed parasailing and speed boating awesome fun!

Yes this is me with my camera at the end of this rope :)

South of Portugal is also known from beautiful sandstone coast. You can hire small boat to explore beautiful caves and beaches!

The beaches Algarve are known for the spectacular rock formations, the white sand and the azure blue Atlantic Ocean. The South Coast of Portugal offers both large, wide beaches and small hidden beaches in wonderful bays. The West Coast of the Algarve is rougher and more quiet.

I hope you're going to visit this place one day and enjoy it as much as i did.
If you would like to view full collection from my visit please check below link
Travel Destination - Portugal Algarve Collection
Photo credits: Sebastian423.