Triberg Waterfalls, Germany: The Black Forest's Beautiful Secret
The German countryside has rarely been talked about in International forums. It often gets overshadowed by its neighbors in Slovenia, Croatia, and Italy. When one thinks of German provinces, a picture of an old town often appears in mind. Today, I am going to show you that Germany still has its little pockets of natural wonders that deserve a short stopover en-route to your destination.
Black Forest
Just about 2 hours (by train) across the German/French hybrid of a town, Strasbourg, the black forest is a sprawling natural wonder filled with small towns. The reason behind my inclination to visit this area was because of a famous chocolate cake sold in our country -- The Black Forest Cake. I wanted to try its original recipe but the people living in this area did not even have a clue about the mythical cake that I searched for. Saddened by the realization that corporate marketing has fooled me again, I looked for another way to enjoy my time at Triberg. A quick Google search suggested to visit this area nearby called the Triberger Wasserfälle.
The view below surprised me as I walked the little forest reserve in search for the elusive waterfall. The path looked as if I was filming some sort of a drama film.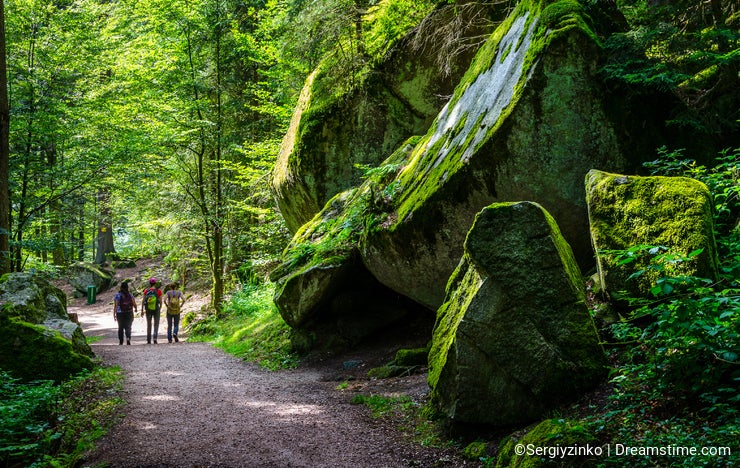 Another 15 minutes of walking on an inclined hill brought me to the center of the masterpiece. I loved the fact that only a few people visit this town particularly during Christmas because of its popular Cuckoo Clock. Apparently, Triberg has the largest Cuckoo Clock in existence but I digress. The lack of people in this place gave me the excellent opportunity to take a shot that had some length in exposure.
The image is better viewed in full for the whole experience to be felt.
Camera Technique
The Camera I used for this shot was still my handy Nikon D90. The good thing about this place was the tree cover of the forest making long exposure possible even without an ND (Neutral Density) filter. Due to the age of my camera, long exposure helps increase the performance at low ISO numbers and give a silky effect to the water. All this will not be possible without a tripod which I tirelessly carried to site.
How to Get There:
Map Link: https://goo.gl/maps/zhEoUNu8jmoM8AvP7
By Walking ONLY: From the train station, it will take around 50 minutes to walk. I suggest to check-in at hotels in town nearby before going to the waterfall.
--
Follow Me At:
Instagram: https://www.instagram.com/thetraveldean/
Photo credits: Dean Eldrick Tan, Sergii Zinko.