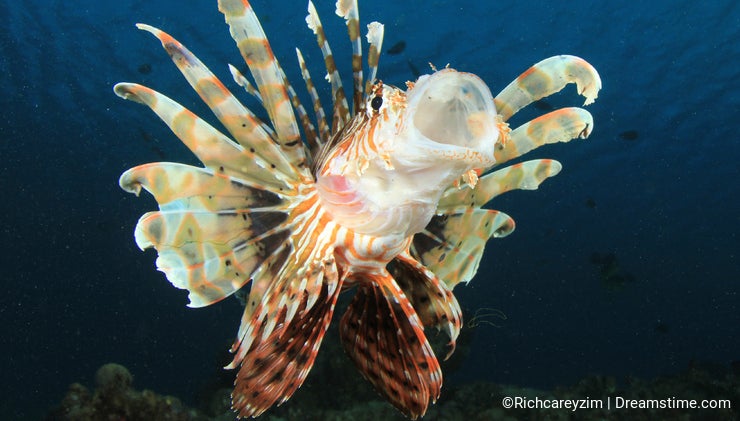 Richard Carey joined our community in 2009 and brought to surface and to our attention a niche yet interesting underwater photography portfolio. As a former scuba instructor, Richard may not be the typical microstocker we are all accustomed to but he discovered that his hobby can be pleasantly and advantageously combined with photography. His models and settings may not be business but he has managed to make microstock his business nevertheless. Nowadays Richard dives for both business and pleasure and is successfully mixing them. We're a bit green with envy but light acts differently underwater so let's go under and join him for an interesting session of underwater photography insights and tips.
First of all, why underwater photography? When did you first dive and how was it?
My first dive was in Weymouth, England, in May 2000. It was cold and there wasn't a lot to see - but it was the first steps towards a new career. I qualified as a PADI Scuba Instructor in 2003, and moved to Dahab, Egypt a year later. Diving in the Red Sea is fantastic - warm, clear water and plenty of coral and fish. I bought an Olympus compact camera and underwater housing a year later, and started taking underwater photos as a hobby in my spare time. In 2007 I bought my first DSLR and stopped instructing to work full time as an underwater photographer.
Since you have photographs taken above the water, you can compare both experiences. Is underwater photography very different? In what sense?
I learned to take photos underwater, and only later started taking photos on land - so probably the opposite of what most people do. When you take photos on land, you can focus on getting the composition right and the image technically correct. With underwater photography, you also need to be in control of your buoyancy so that you can get into the right positions to take photos. You need to spend time practicing your dive skills and buoyancy control so that they come automatically, then you can concentrate on actually getting the shots. It's no use having thousands of dollars worth of equipment, and even great technical knowledge, if as soon as you go underwater you start flapping about and scare all the fish away.

What are some major challenges you experience when shooting underwater?
The most important thing you need to do when taking underwater photos is to get close to your subject. Most fish and other underwater animals don't necessarily want to be close to us - so this takes a bit of patience and understanding your subjects. The next challenge is that water absorbs light, which is why many people find their first attempts at underwater photography result in very blue images. Once you learn what happens to light underwater, it's not hard to compensate for this.
Are you ever afraid, especially given that you are sometimes swimming with sharks? Was there ever any unpleasant incident while you were taking pictures underwater?
Humans kill millions more sharks than the other way around, so sharks need to fear us more than we need to fear them. I spent 15 months working at a dive center in the Bahamas that does shark feeds. We would dive surrounded by 40-50 Caribbean Reef Sharks. They were only interested in the fish we brought for them - I never felt anyone was in any danger.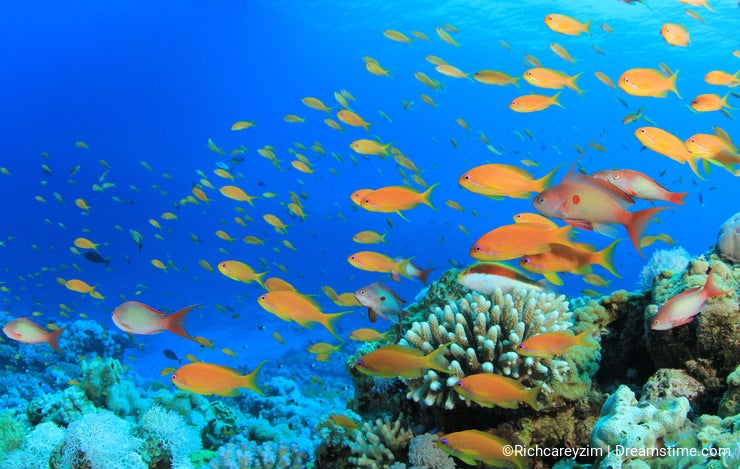 Underwater photography is not unusual but it is not something any photographer would do. Is there any other photography experience/field you find challenging and you would like trying but have not done it so far?
I love wildlife photography - but I spend most of my time in Egypt, and there isn't a lot of wildlife to be seen on land. Underwater it is different - the reefs are amazing - and that's why I take almost all my photos underwater. When I have the opportunity to take wildlife photos on land I'll certainly take them - but as there are so many people already taking wildlife photos on land I think it is now very difficult to get photos that haven't already been taken before. If I plan future photographic trips, I'll probably be diving in a different part of the world and still concentrating on the underwater life.
The types of camera equipment you use in underwater photography must be completely different from most photographers' kits. Which pieces of gear are crucial to your line of work? Which ones you never dive without?
I use a Canon Eos 60D, Seacam Prelude underwater housing and Ikelite DS 160 strobes. Most of the time I use a Tokina 10-17mm fish eye lens and I also have a Canon 10-22m wide angle and a 60mm macro lens. The Seacam housing is fantastic - the controls are perfectly positioned so I can change settings fast. Strobes are essential as they replace the color which is absorbed by the water. It is always important to get up close to your subjects underwater, so you need wide angle lenses for big subjects and macro lenses for the little stuff. Of course you can't change lenses underwater so you need to anticipate what subjects you are likely to encounter. It can be very frustrating when you get it wrong - the dive I decided to try out my macro lens for the first time, a dolphin joined me on the dive for twenty minutes - all I could photograph was his eye...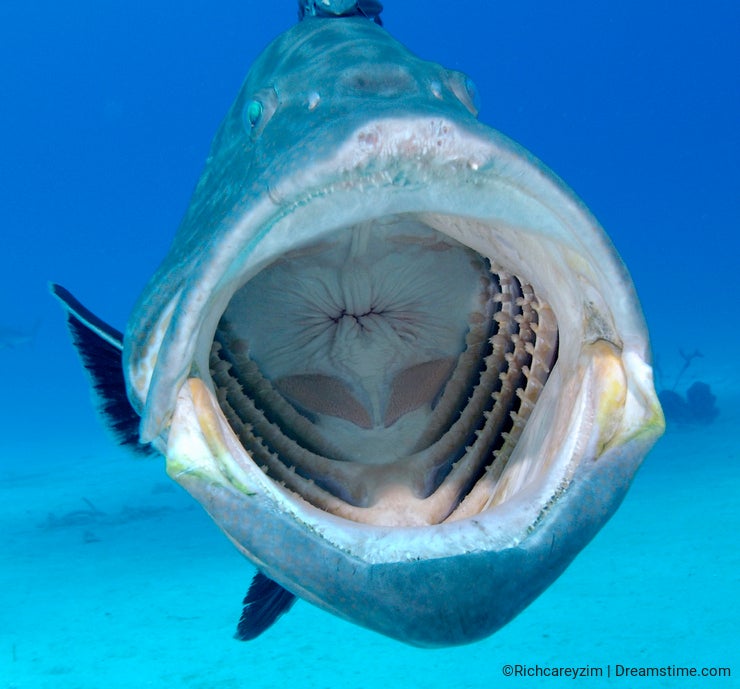 Tips for underwater shots. Should we hold our breath while trying to capture fish shoals? What should we have in view and mind when diving to take photos?
If somebody was jumping into the water with a camera for the first time, my tips would be get close, get low, shoot up and use the flash. Of course if you really want to get pro quality photos you need to know a bit more than that, but it's not actually necessary to read books hundreds of pages long to get that info. With that in mind I have written a short ebook - it's available on Amazon at link. People who don't have Kindles, or want to view it in color, can download it to their computers with the free app.
Best location for underwater photos you've ever been to and you would warmly recommend.
The Red Sea, Egypt! I live in Dahab for most of the year - a small town an hours drive from Sharm el Sheikh. Don't worry about that they say about Egypt in the papers - its peaceful, calm, the people are friendly and the diving is great.
Have you noticed any changes in the fauna and underwater life due to global warming, pollution etc since you started diving?
Unfortunately this is an issue all over the world. Plastic bags get dumped at sea and over-fishing is a big problem in many places. At many dive sites the coral has been damaged by too many divers - but of course if the divers weren't there locals would earn a living by fishing instead. If everyone does their bit to remove any trash they find, avoid touching and damaging corals, and does not support unsustainable fisheries, hopefully we can stop the damage.
What kind of advice can you give someone that's looking to pursue a career in underwater photography?
Try to have as many income streams as you can. I work with a few dive centers selling underwater photos to the guests, teach underwater photography courses (more info at www.richardcareyphotos.com), sell images on microstock sites such as Dreamstime, and occasionally submit articles to magazines. The other advice I'd give is live some place where the cost of living is low and the diving is good!
We hope Richard has inspired some of you to take the plunge and give a stock chance not only to underwater photography but maybe to a wider range of subjects we would otherwise leave out. Maybe smiling business people are only skin deep and there is a whole range of fresh things to discover underneath the surface. Just dive in.