Underwater Life List (Wide-angle) #3: Sea turtles

Yawning Indo-Pacific hawksbill sea turtle (Eretmochelys imbricate bissa). Raja Ampat, Indonesia.
Sea turtles are another iconic group of marine species that come high up on my underwater life list, and encounters with them always make for a great dive. Most species of sea turtle are listed as threatened on the IUCN Red List and the only one that's not, the Australian flatback sea turtle (Natator depressus), is listed as Data Deficient. I've been lucky enough to encounter and photograph two out of the of the seven recognised species; both subspecies of the critically endangered hawksbill sea turtle (Eretmochelys imbricata), and the endangered green sea turtle (Chelonia mydas). I've probably also encountered loggerhead sea turtles (Caretta caretta) but do not have any verifiable photos of this species.
Atlantic hawksbill sea turtle (Eretmochelys imbricate imbricata). East coast of Bonaire, Caribbean Netherlands.
I had my first ever encounters with both hawksbill and green sea turtles diving in Bonaire and I took my first ever photo of a sea turtle, the one above, with a Sony Cyber-shot DSC-W300 on the remote east side of the Island. I like this image a lot, it shouldn't have worked because the turtle was so far away that the image has been rendered in monochromatic blue. However, to me at least, the image works because it captured the moment just after the turtle had taken a breath from the surface of the sea, emphasising their connection our terrestrial world. It also taught me a useful lesson about turtles that day, that they are not slow! In theory, the DSC-W300 could shoot at 5 FPS but by the time I was ready to take a second shot the turtle had already swum straight past me. Chasing turtles for photos underwater is totally counter productive, not only will they disappear at high speed but it is highly stressful for the animals.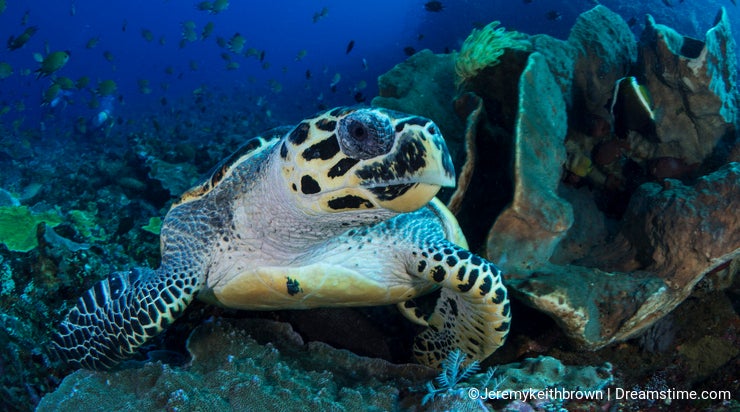 A close-up wide-angle of an Indo-Pacific hawksbill sea turtle (Eretmochelys imbricate bissa). Komodo National Park, Indonesia.
On the other hand, if you approach them slowly and from the front they will usually allow you to come within less than a meter of them and take as many photos as you like while they go about their business. In many cases, they will even investigate you out of curiosity like the large Indo-Pacific hawksbill on Komodo's famous Batu Bolong reef, pictured above, did.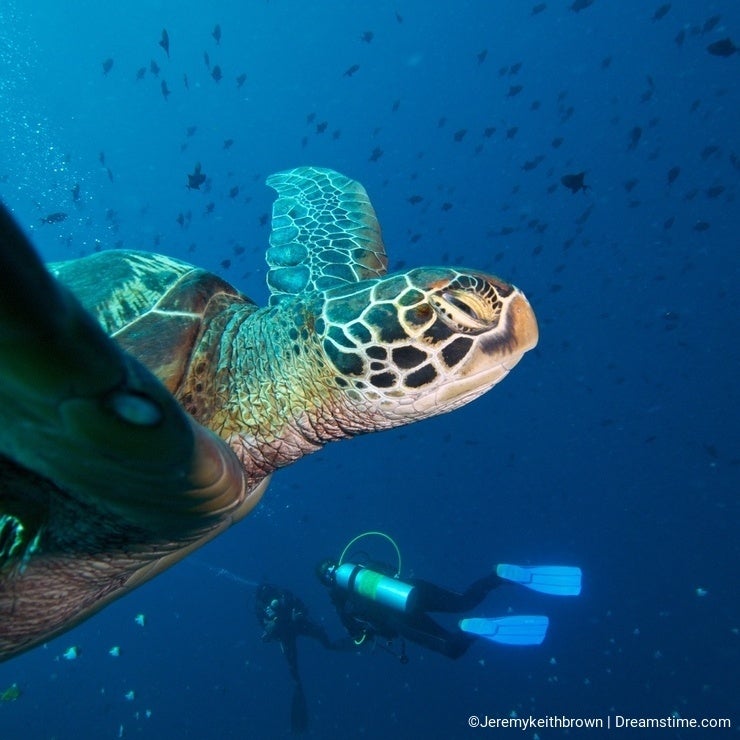 An extreme close-up of a huge green sea turtle (Chelonia mydas). Bunaken National Park, North Sulawesi, Indonesia.
Alternatively, you can try waiting to see if a free swimming turtle will swim towards you to take a closer look. As was the case with the huge, nearly 2 meter long, green sea turtle pictured above. One of many extremely large green sea turtles that live in the Bunaken National Park, the right front flipper of this one was actually touching the dome-port of my camera housing when the image was taken.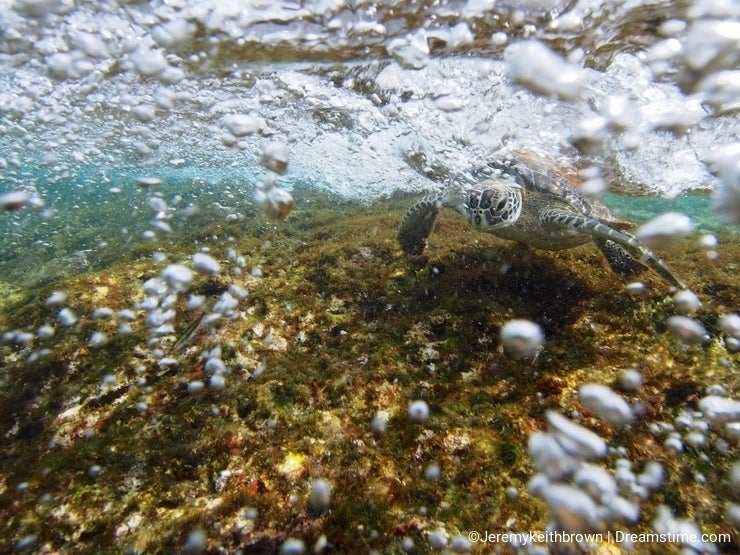 Young green sea turtle (Chelonia mynas). Bonaire, Caribbean Netherlands.
Another way I managed to capture images of green sea turtles was by dipping my camera housing and shooting pictures "from the hip" while wading at in knee high surf at a beach in Bonaire where large numbers of juvenile green turtles come to feed on the algae that grows in the shallows. It's a hit-and-miss approach, but it does produce some interesting and dynamic images of the young turtles as they battle against the surf to get something to eat.
While hawksbill and green sea turtle are globally endangered they are often locally abundant in areas where they are properly protected. Bonaire, Misool, Bunaken, Komodo, and other similar marine reserves offer not only the best opportunities for divers to encounter and photograph sea turtles in the wild, but also a way for divers to contribute to conservation of these iconic animals through marine park fees and, arguably more importantly, by providing an economic alternative to unsustainable hunting practices.
Photo credits: Jeremy Brown.