What Photographers & Videographers Can Expect from the new iPhone 8
Whether our passion is portrait, landscape, abstract, or stock photography, we photographers certainly appreciate our little pocket-sized friends, namely our smartphones, which have become very powerful photographic and videographic tools, and are making a leap forward with every new addition to the market.
It's no surprise, then, that Apple's newest iPhone alleges to have much improved photographic capabilities. The new iPhone 8 release is scheduled for a September 12th launch event and promises to offer many new improvements and innovations. Other specifications aside, however, let us dive a bit deeper into upgrades that the new iPhone will implement when it comes to the camera.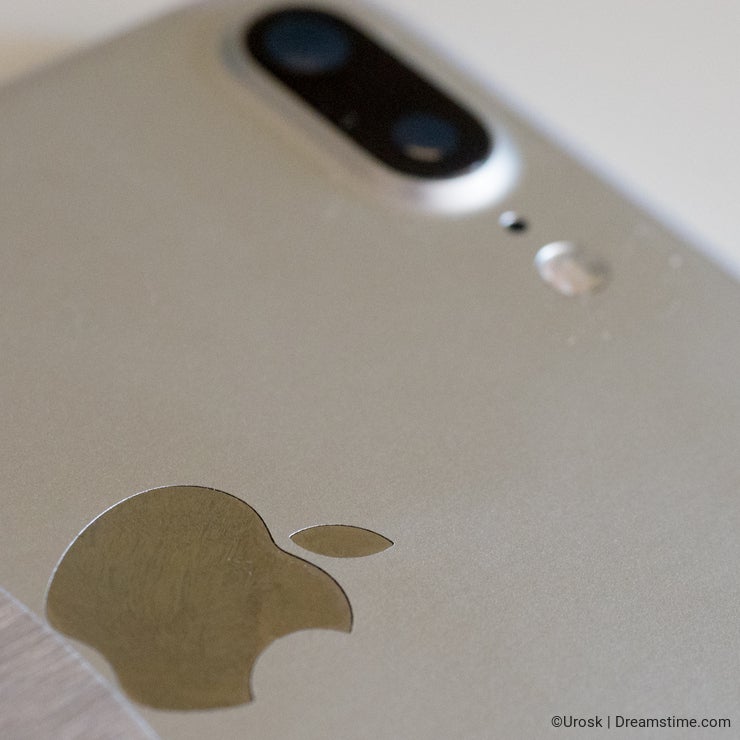 We can't say that the current model, iPhone 7/7+ has missed a lot regarding camera performance. Yes, maybe the levels of noise were a bit higher than some of the competition, but then again, that noise seemed quite a bit less destructive and "finer" than the most of the competition.
1. Back camera
Resolution
Don't shoot me for saying this, but thank God, the resolution remained the same: 12 MP. Everyone who knows a bit about photography can understand that cellphones were already pushing their limits with number of MP and that means more noise as a rule of thumb. It's very hard to push resolution higher and keep the sensor size the same. But guess what? iPhone 8 will have a bigger sized sensor with the same 12 MP resolution. This is even better news for photographers, meaning that the actual quality of the pictures taken at corresponding ISO values will be higher.
When it comes to video recording, this little powerful gadget will spot a mighty 4K video with 60fps! This would be the industry first appearance of that kind of resolution and frame rates in a smartphone. Needless to say that for such a kind of job, it will get a mighty processor and RAM memory accompanied with very fast internal storage capabilities.
Physical changes
The back camera will be doubled as before, one for wide angle, the other for tele-zoom. The good news is that now both of them, unlike only wide in previous model, will have an optical image stabilization (OIS). Now we're in business! We all know that the OIS is much more needed for longer focal lengths than for wider. Cameras will be placed vertically instead of horizontally with a bit more spacing between them to make new face recognition technology, that will replace touch ID with fingerprints, easier and more precise.
Aperture of the camera lenses is expected to be somewhere around f/1.8 or f/1.7 at best for wider lens as to match Galaxy 8+ and somewhere between f/2.1-f/2.5 for telephoto lens compared to f/2.8 on iPhone 7+.
Sensor size is expected to be increased as mentioned above, from current 1/3" to 1/2.5"-1/2.8" to match the iPhone's main rival – the Samsung Galaxy S8/S8+.
Infrared sensors should be integrated to both front and back cameras.
SmartCam detection should be able to detect most of the possible scenes you are shooting or recording and adjust the camera at best settings to achieve better results. This system should be able to distinguish different environments and adjust itself accordingly. Also, it should detect fast moving subjects in order to freeze them with fast shutter speeds.
2. Front camera
Resolution
Great news is that the front camera will be able to record 4K 60fps video too! Compared to iPhone 7+ 1080p 30fps it's a major step forward. To make it possible, resolution must be increased to 8.3MP at least because that's the smallest resolution required to make a 4K video without upscaling. The expectations are that it will be 9/12 MP.
Features
Face ID is what is this camera all about. It should replace today's touch ID and work both for unlocking and using Apple Pay. That's why the front camera has iris sensors, too, for it's iris scanner along with an IR transmitter and IR receiver.
We will have to wait a bit more to discover if the other features of the back camera appear in the front one too.
Putting all these numbers into perspective
What should all these specs mean in practice? Well, it's obvious that Apple is on the route of making a better low-light performance camera above all. Larger sensor, larger aperture, OIS in both cameras and retaining the same 12 MP resolution all speak in terms of that goal. It will be very interesting to compare the results of this cellphone's camera with previous models and current rivals in the market.
App suggestions
While we count down the remaining days up to the official announcement of this iPhone 8, iPhone PRO or just iPhone, whatever it may be called, we can still get a lot of fun with some really good apps that can spice up our cellphone camera.
If you're into stock photography and want a great looking app that is easy to use for uploading mobile phone images, then you should really consider our Dreamstime companion
You shoot models a lot? Easy release is a must have and there is no better option anywhere online. Yes, you have to pay for it but it's worth every dime. There are options to make both Model and Property releases and to quickly send them as PDF or JPEG (or both) on your e-mail for further use.
You like landscapes and sunsets and sunrises are your favorite subject? Search no more - Sun serveyor is all you need. This great little app allows you to see where the sun will be any time and date anywhere in the world.
Wanna measure the light intensity but you don't want to spring for a light meter? No worries - there are several light meter apps for your iOS phone that work like a charm! Pocket light meter is one of them.
And in the end, if you'd like the most powerful editing app on the market, then Snapseed will give you most of the stuff you ever imagined to do with your photographs. It's like Photoshop but for your cellphone.
As for the final word - whatever your cellphone is, whatever camera it has, always try to make the most of it by exploring its features and putting them into everyday practice. That way, you will know yourself if it's the right time to take a step forward and then decide in which direction will it be.
Are you an iPhone user? What are your thoughts on, hopes for, and expectations of the upcoming iPhone 8? Let us know in the comments section!
Photo credits: Uros Kovandzic.
To provide you with additional information about how we collect and use your personal data, we've recently updated our
Privacy Policy
and
Terms of Service
. Please review these pages now, as they apply to your continued use of our website.