Winter Wonderland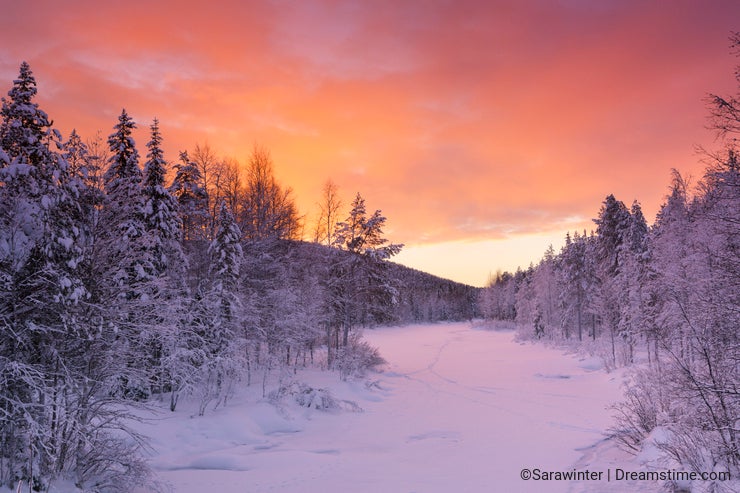 A new roundtable, this time on our next favorite season: winter. Sara Winter, Wisconsinart, Alfredo Ruiz Huerga, Andreanita and Irina Kharchenko shared with us their experience and the most rewarding moments in photographing the winter, and we thank them for inviting us in their world.
1. Does winter deserve any kind of post processing? If yes, what's your trick for artsy visuals?
Alfredo Ruiz Huerga: I do not use any special post processing for winter scenes. I specially take care of the white balance, trying to edit the photo into a natural colour
Sara Winter: Although people might disagree, I think any photo deserves some form of post processing. It's what we did in the dark room back in the days too, right? I have developed a workflow that I apply on most of my photographs. Consisting of taking three or more exposures of one scene and combining them in Photoshop for the best overall exposure. Nothing too complicated and I've done it like this for many years, so processing my photographs this way almost became my second nature.
Wisconsinart: Snow can sometimes turn out to be grey or have a blue-ish tint. If you shoot in RAW this can be easily corrected by adjusting the TEMPERATURE and/or TINT in Photoshop.
Andreanita: Winter does not require a real special post production. The only real thing can be about the white balance. Winter images with snow can produce some strange color cast, due to the color of the sky and light are easy visible in white images. This means that images sometimes have to be altered with a white point to change the white balance. But sometimes the color cast can give such a beautiful mood, that the slight color cast and soft tones of winter can be used to produce real serene images.
Irina Kharchenko: To make a winter photo come to life and stand out, I like to add blue, cold shades, volume and movement to the shot.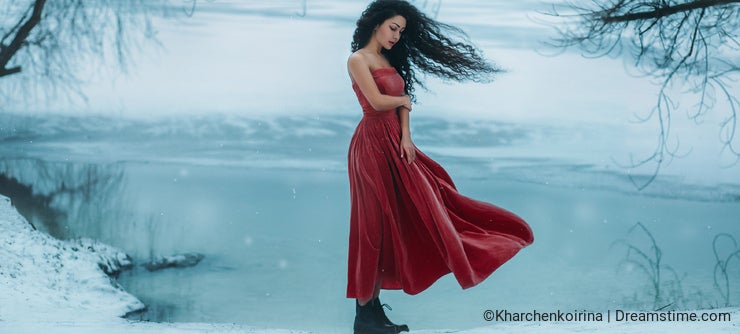 2. What is the golden hour for winter photography?
Alfredo Ruiz Huerga: Of course, sunset and sunrise are the best hours for winter photography. But in a cloudy day, at any hour, we can get lovely photos.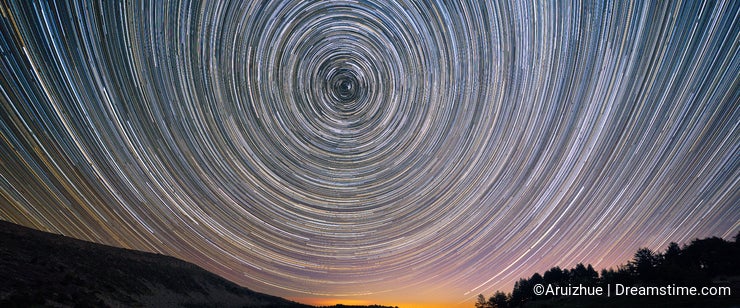 Sara Winter: Technically it's still the period right after sunrise or just before sunset. But I always make sure to arrive at a location way before sunrise. Especially in winter the 'blue hour' can be so beautiful. When there is snow, the light is reflected beautifully, creating a very nice soft light long before the sun moves above the horizon. Same goes for the period after sunset. But in general the air is colder and calmer in the morning, making the air more moist and the light more soft at this time. Sunrise always is my preferable time to shoot!
Wisconsinart: It should be obvious that the midday sun can be especially harsh on white snow. You may want to consider using a filter if you're unable to shoot earlier or later in the day. However, it should be realized that snow and ice can change by the minute, especially if the sun is out and it's fairly warm. Even when it's cold the snow can slowly change during the day. The snow can lose its fresh and pristine look in a matter of hours so it's not always the time of day that matters but what's in front of your camera for a particular point in time.
Andreanita: As with all photography dusk and dawn are favorite times. But in winter the sun will stay much lower in the northern and southern parts, so that the whole day is most of the time good for photography. But what I like personally is the polar nights in the high north. The color of the light is amazing in this few hours that there is some lights. Downside is the longer shutterspeeds, so tripods and or higher iso are required.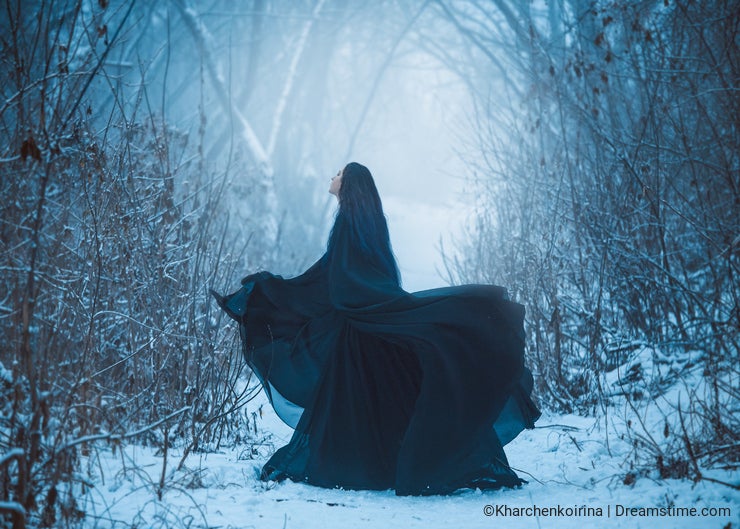 Irina Kharchenko: The best time for a photo shoot for me is when there is no hard sun, 2 hours before sunset, or on cloudy days. There are lots of those in winter.
3. Landscapes, closeups, portraiture, empty streets, wildlife? Which one do you prefer?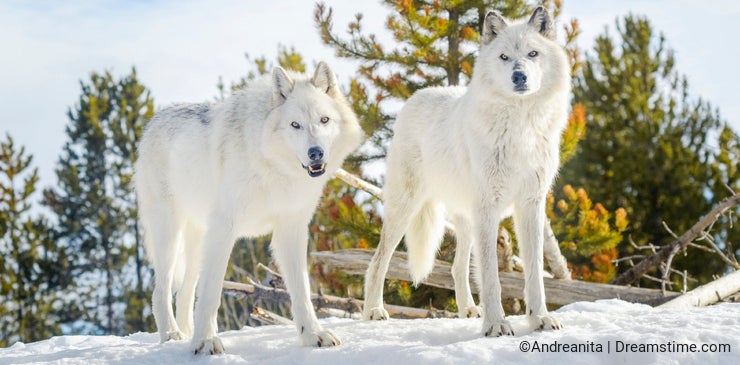 Alfredo Ruiz Huerga: Landscape is my favourite kind of photography. I bought my first camera because I wanted to capture the beauty of the landscapes I used to see in my mountain trips.
Sara Winter: Landscapes! I'm a landscape photographer at heart and I love how winter conditions can turn landscapes in something so different.
Wisconsinart: I prefer landscapes. I enjoy being out in nature.
Andreanita: Definitively the wildlife. I am always amazed how wildlife handle the cold and harsh nature during the winter. So, it is important to show the behavior of the animals with these difficulties and hard circumstances in your images. Also, all the focus is on the animal if you can use white snow as the surrounding, which make your image more serene. The landscapes are also wonderful in wintertime with the soft tones and colors, but still wildlife stole my heart.
Irina Kharchenko: I love taking portraits of people, while fitting them into a beautiful landscape, creating a harmonious, fabulous picture of unity of man with nature.
4. Your best winter photo and the story behind it.
Alfredo Ruiz Huerga: Maybe a sunrise at Skogafoss. When we reached the waterfall it was snowing and we didn't leave the cars. But a few minutes later, the clouds opened and we could see the blue sky and some pink clouds. We were alone in front of the great Skogafoss waterfall, nobody else was there, no footprints on the snow, we enjoyed a lot and took some beautiful photos at that moment.
Sara Winter: One of my favourite winter photos would be one from the series I shot on Uttakleiv beach in the Lofoten archipelago in Northern Norway. A snow storm was slowly approaching from the north. This photo was taken in January and in this time of year the sun stays very low on the horizon in this part of the world. So you basically get a sunrise turning straight into a sunset - a dream for every landscape photographer! As the snow storm got closer, the light got brighter and extremer. Ending in the most apocalyptic light I've ever seen, where everything turned bright orange from the sunlight reflecting on the clouds and the snow. Then it started snowing... hard. A memorable moment!
Wisconsinart: This is one of my favorite pictures.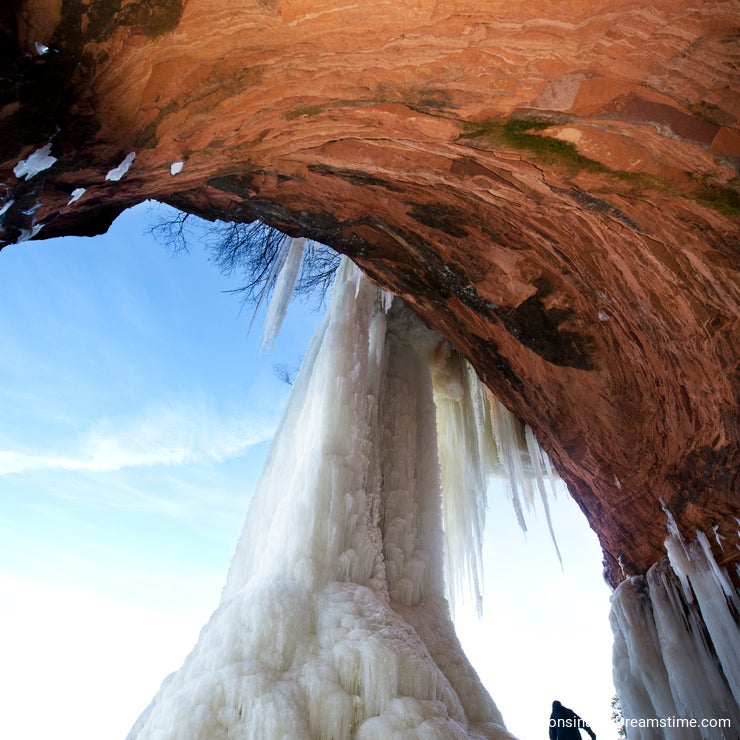 The photograph was taken at the Apostle Islands Ice Caves. This is on the northern shore of Wisconsin along Lake Superior. It takes weeks and weeks of freezing, bitter cold to form enough ice along the shore to make it safe to walk across. Red bluffs stand above the lake and over time have been carved out by the pounding waves of the Superior. It can be years before the winter is harsh enough to freeze the great lake, but when it does the waves will have covered the bluff walls with ice. Snow on top melts and freezes and cascades down forming huge waterfalls made of ice. It is a landscape rare to be seen in any part of the world and when the park service deems it safe for tourists to venture out on the ice, thousands of people can come every day to see the spectacle.
Andreanita: Not sure if this is my best winter photo,but it is by far the bestseller. I saw this cub come out of the den with the mother after six days waiting in the cold. That was amazing, and we followed the tracks the next day to this night den. We saw only the cub outside the den, playing at the entrance. When I made this image, I knew immediately that this was a seller. The cub is cute and sweet and seems to wave goodbye. Polar bears are under decline from the climate change and the waving goodbye is fitting in well that discussion. For me it actually was a goodbye on that moment. After that day I had to go home, it was my last shot of this little cub. Hope it is still out there and doing well.

Irina Kharchenko: It was a cold, winter day when my model, my assistant and I went to the river, where a lot of wild ducks were swimming, and started shooting, but the birds didn't pose. We tried to clap for them, uttered strange sounds hoping to frighten them, my assistant even ran ankle-deep into the water shouting wildly, the passersby were looking at us as if we were crazy, but the birds just didn't react to us. But then, fortunately, a young couple with a dog and some fresh bread approached us, the girl threw the bread and the ducks rushed fighting for the pieces, and the dog ran along the bank, barking and scaring away the ducks as they flew in a panic in different directions. At that moment I managed to take the photographs of flying birds.
5. How is shooting in the cold? How do you make your research, what's on your list?
Alfredo Ruiz Huerga: The best piece of advice for shooting in the cold is to be well protected from cold weather and dress warmly. If you are not comfortable you cannot enjoy the photo and you won't get a good memory.
Sara Winter: I love it! Winter is my favourite season to go out and shoot. Canada in winter is high on my list, or places in the US ( Yellowstone, Alaska). Places I've been to in other seasons, just never in winter. But anywhere in the north of Scandinavia is always good too :).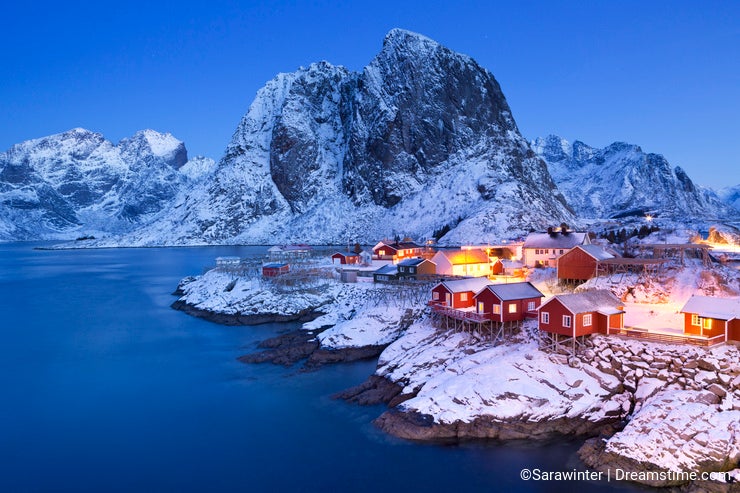 Wisconsinart: I've found that professional grade cameras will function well in extreme temperatures. Lower end cameras will literally fail in one way or another.
Andreanita: Shooting in the cold can be a challenge. Some places can get as cold as minus 50 degrees Celcius, without the wind chill factor. With wind it can be even colder. It is important to know in advance how cold it can become and how to reach these places. You need extra days between flights, because in the winter, flights can be delayed easily by bad weather. You need to be flexible. Once we had been in a big blizzard in northern Canada. And had to delay flights back to Europe with 14 days due to the bad weather. We could not do anything than stay inside and wait the weather out. That place is still on my list to go back and to try photograph a mother polar bear with three little cubs.
Irina Kharchenko: In winter, I don't look for new locations. I prefer to go to the place I also liked in the summer, so that I can take photos there in good conditions in familiar surroundings.
6. Best memory of winter?
Alfredo Ruiz Huerga: The last trip to Iceland in February.
Sara Winter: I'd like to stay close to home for my best memory. The 4th of February in 2012, to be precise. A day to remember in my home country The Netherlands, as it was the coldest morning in recent history (I will never forget this date!). We have quite a temperate climate, so extreme temperatures are rare, but it got to minus 21 degrees centigrade this morning. Everything was covered in a layer of snow and frost. And with some ground fog around sunrise, this was the perfect winter's morning. I was photographing along the edges of Lake IJssel this morning and it was almost as if I was standing somewhere in the Arctic. These were conditions that reminded me of winters in northern Scandinavia, it was amazing. Hopefully we get to see more mornings like this in the future!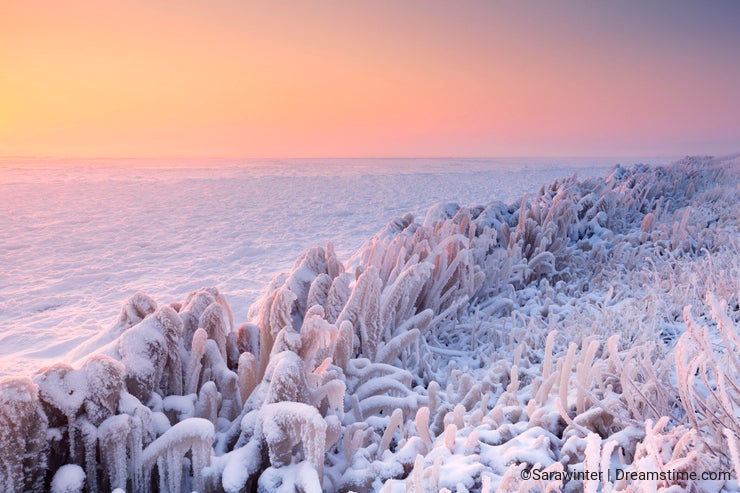 Wisconsinart: I used to live in southeast Texas, a place not that far from the sub tropics. Winter generally never comes to that part of the world but there are occasions where snow and ice storms would come roaring through. One year just before Thanksgiving weekend it rained hard along with freezing temperatures. It stayed cold for days and everything was covered in ice for a good part of the holiday. People in northern climates like to think they know how to drive in snow, but they really don't. Places with winter will have snow plows and salt trucks and they efficiently clear the roads when the weather turns foul. So when I ventured out on roads covered with ice and untreated, I quickly realized how dangerous it was to drive on a road that was not tended to. It was one of the scariest drives I had ever had and it taught me that no, people up north don't really know how to drive in the snow. Try driving on a tract that is sheer ice and you will know true fear of being unable to control a vehicle even when going 5 miles per hour.
Andreanita: To wait for a polar bear den for 6 days and then finally see the mother with the cub coming out of this fresh den. It took many days waiting and some frozen body parts, but was the most rewarding nature moment I ever had in my life.
Irina Kharchenko: The best memory of winter is probably somewhere from my childhood. When you look forward to frost and snow to go sledding with friends.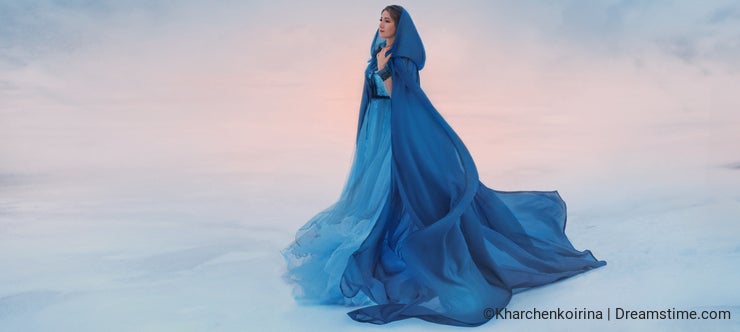 7. Plain white winter or a spot of color, too?
Alfredo Ruiz Huerga: I had the opportunity to photograph some yellow trees covered by snow in autumn, and I really liked them.
Sara Winter: Both! My favourite are snowy landscapes in colourful early morning sunlight. The way the snow reflects the light is so unique.
Wisconsinart: Doesn't matter, if it's a good photograph then it's a good photograph.
Andreanita: Plain white can be very interesting and soft, but I think a spot of color can make a lot of difference in an image. It will attract all the interest straight to it. To make a point or tell your story in an image is the touch of color great.
Irina Kharchenko: Winter is certainly mostly white, but it has a lot of color. Berries, firs, rocks, dark trunks of bare trees stand out sharply against the white background. In the rays of dawn or sunset winter is all a spot of beautiful, fabulous, vanilla color.
8. Does winter deserve to be called wonderland?
Alfredo Ruiz Huerga: If you don`t mind the cold... why not?
Sara Winter: I never really liked the term Winter Wonderland, as it reminds me of cheesy Christmas imagery or Disney movies. While I love the harshness of winter: the extremer, the better. The way extreme temperatures or weather conditions transform the landscapes in something so different fascinates me. Nothing too wonderful or romantic about that, although I can imagine it looks like that on a photo when you're not standing in those conditions!
Wisconsinart: Definitely a wonderland! The days when a fresh blanket of snow covers the landscape with fresh, pure snow, it is a sight to behold. The snow muffles the sound and it will be quiet and serene. That can be contrasted with wicked blizzards, the blowing of damaging winds that create huge snow drifts and can block passage into a house or bury a car. Even then the raw nature in front of you gives pause.
Andreanita: For me it does. It is my favorite season. I love to be out there in the cold and the snow. Going around on Svalbard on a skidoo and camping on the ice watching the sunset is like a dream coming through. Even walking through a forest is in the wintertime totally different as in other seasons. It is fresh and crisp, much more silent. Nature is serene, and light is always beautiful in the winter season.
Irina Kharchenko: There's no doubt that winter is wonderland. This is an embodiment of sleep and tranquility, everything freezes under a glittering white veil, and everything is silent. There's incredible beauty in the smallest details.
9. Any useful tips regarding the proper equipment, angles, techniques that you'd like to share with our community?
Alfredo Ruiz Huerga: Try to capture the textures of the fresh snow and ice.
Sara Winter: The most important photography equipment in winter is clothing! If you're not warm or somewhat comfy, you won't be able to wait out for the perfect light long enough. Having your hands go numb is no fun and it makes pressing the shutter button difficult as well. As far as equipment goes, I never really did anything different than I would in warmer seasons. I've never had a camera failing on me, not even in the harshest conditions. A towel could be useful for when you're returning indoors, equipment tends to get quite moist when you get out of the cold.
Wisconsinart: Timeliness can be crucial when photographing the winter landscape. If the snow is powdery and dry, it may cover everything in a beautiful blanket of white but it only takes a small amount of wind to blow it off whatever plants and objects it covers and then you lose the full effect. You have to get out and be quick to get in your pictures if this is the case. A warmer winter day and/or sunny day can cause the snow to melt or lose its fresh and pristine look. Even on a cold day the snow and texture can change in a matter of hours. Again, you need to get out and capture the landscape before the snow changes.
If you shoot video, there are very rare opportunities where ice storms and/or sticky snow will begin to melt and will fall off in pieces from the trees. It will literally rain ice and you can get unique and interesting video if you watch for this phenomenon. It will not last long so get out there and get your video when the pieces start to fall.
If you like surreal landscapes, the woods after all the leaves are gone and without snow can provide a bleak and barren look. Sometimes there can be some snow and if it warms up, the snow will melt and create fog which is another surreal affect among the lifeless vegetation.
Andreanita: Most cameras can handle the cold. The battery is mostly the problem. You need extra spare batteries and carry them in your coat on your body to keep them warm. Switch the warm one in if necessary and put the cold one in your pocket. When it is warm it will work again. If you go inside, but want to get out to photograph again, keep your equipment outside in the cold ! Only take them in if you are finished for the day, or put all the cameras and lenses in plastic bags to keep the moisture out of them. All the cold equipment will get condensate and when you take it out this will freeze! For the images, I would check my histogram more than usual. You want to keep the white crisp and fresh, but not overexposed. Still you have to trick your camera from the gray measurement it is supposed to use and overexpose 1-or even two stops to get white snow instead of gray snow.
Irina Kharchenko: My essential set of equipment is my Canon 6D camera, my favorite lens of the Canon 50mm F / 1.8, and my Canon EF 70-200mm f / 4.0 L. I mainly work with natural light. I pay a lot of attention to setting the scene, posing, details, preparing for shooting and choosing a location.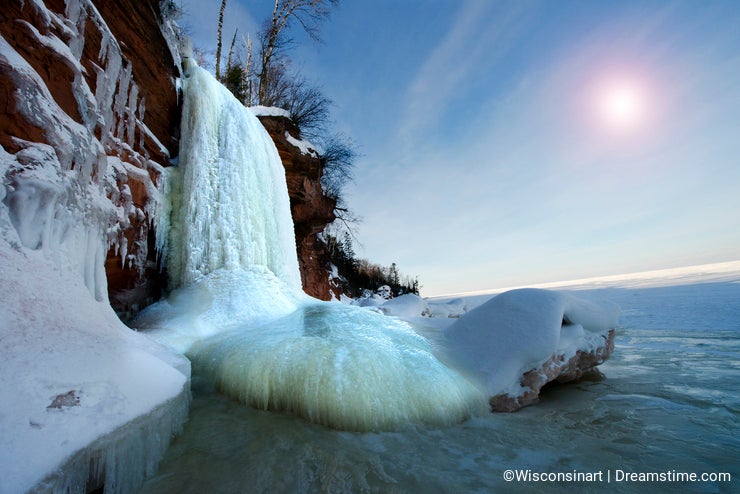 Photo credits: Andreanita, Alfredo Ruiz Huerga, Irina Kharchenko, Sara Winter, Wisconsinart.