A work of art or a stock image?
My local council used to have an art competition every year, which was mainly painting, drawing and photography. I looked forward to it every year and everyone that submitted got in. It was a wonderful community event. The main criteria was to capture some aspect of the local area.

This was the year I chose a local park where many people walk their dogs and which also happens to be a historical cemetery. Head stones and monuments are scattered about this park which makes it fairly unique. I used to walk through it to and from work. It always put things in perspective and is a place I liked. It is named St Thomas Rest Park and is the oldest cemetery on Sydney's North Shore.
How to capture its essence in a unique way was the question ? Being a photographer that also enjoys Photoshop, I decided to take multiple images and put them all together with as many dogs as possible and some kids. I chose a week that forecast good weather and clear sunny days. First I took an overall shot of the park. Marked the spot so I could set up each day between 8 and 10 am in the exact same place. Remembered my f-stop, camera height and was wide as my 24-70 would go.
For the next 4 days I would politely ask various dog walkers if I could photograph their dogs…. One at a time they would get their dog to sit and then I would get the dog owner to stand just behind me. Dog eyes would always follow their owner ! Snap ! Snap ! Very quick and easy every time. I tried to move them around to all the different areas and many would just run through the scene as well.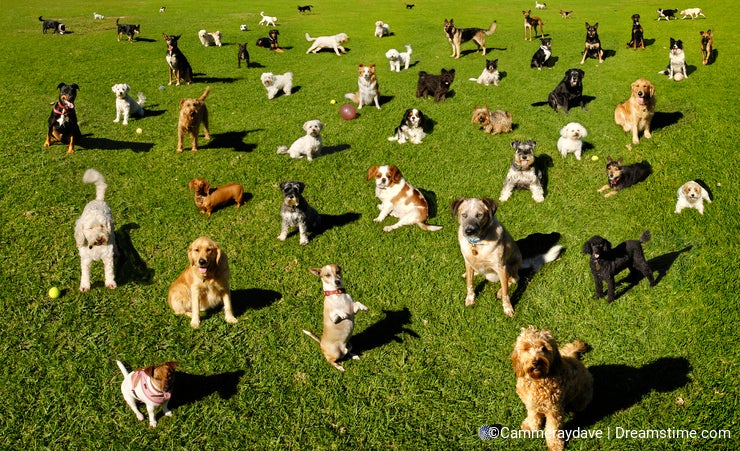 After 4 days I had hundreds of photos and a lot more work to do on the computer… a labor of love. Putting it all together was relatively easy but very time consuming. Next time I would shorten my shooting period to 1 hour or maybe a bit less. Having the shadows going off at different angles was not a good look ! Even though I do enjoy using Photoshop, I tried to do as much in camera as possible.
The opening day of the exhibition was a lot of fun and I was proud of my work. It was titled "Every Day Has Its Dogs" I can't remember if I won the photography prize that year, but I did win the photography prize a few times over the years.
So back to my original question… A work of art or a stock image ? My original intent was art and to sell the framed image. Since that did not happen, I thought why not put it up on Dreamstime ! I did submit two images.The original and a variation without the monument with just dogs and grass. 516 sales later I have to say it is both art and a stock image… Who knew !
Photo credits: Cammeraydave.