Darrinhenry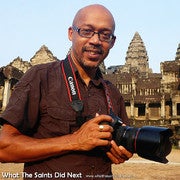 account statistics
Uploaded files:

1,909

Total sales:

7,233

Portfolio exposure:

0.36%

Database exposure:

0.04%

Downloads per image:

3.79

Message boards:

64

Monthly uploads:

22.73 average
BIO
Today I'm primarily a photo-blogger with 'What The Saints Did Next' but after that involved in a range of photography ventures, including micro-stock. Micro-stock has definitely improved me as a photographer since submitting work in 2009. Back then my first pictures were rejected - I complained, huffed and puffed, then calmed down and set about learning how to get more images accepted. Lifestyle stock dominates my portfolio although I've been adding more editorial travel stock since I st ... more
Today I'm primarily a photo-blogger with 'What The Saints Did Next' but after that involved in a range of photography ventures, including micro-stock.
Micro-stock has definitely improved me as a photographer since submitting work in 2009. Back then my first pictures were rejected - I complained, huffed and puffed, then calmed down and set about learning how to get more images accepted.
Lifestyle stock dominates my portfolio although I've been adding more editorial travel stock since I started blogging in 2015. Please check out my photo-blog for more of my work.
My advice to new micro-stockers – you gotta be in it for the long haul. Don't expect fast returns, instead expect to work hard for perhaps 2-3 years before the rewards come. If you can accept that time frame then go for it!
hide
Website:
http://www.whatthesaintsdidnext.com
Joined:
September 10, 2010
Equipment:
Canon 5DMKIII + various lenses Bowens studio gear Canon and Yongnuo for strobist work Modified cereal boxes for lighting gobos
Favourite subjects:
People – As a blogging photo-journalist I find people the most fascinating subjects of all. Street photography and editorial shoots bring a lot of satisfaction. I also love travel photography, although I need to travel more! I studied studio photography at age 14 and this is also one of my favourite places to be, shooting beautiful models and creating awesome images.
Stock rank:
Featured photographer between October 17, 2011 and October 24, 2011