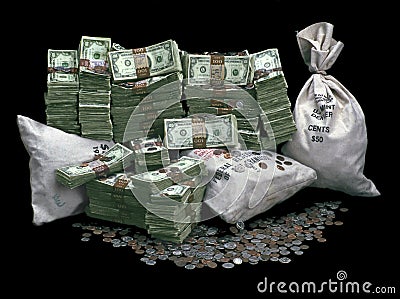 This is a REAL pile of money ...stacks of real $100 bills and bags of coins from the U.S. Mint. (We had armed guards in the studio while taking this photo!) Note: these are the old-style $100 bill designs ...just before the recent design change.
Stock photography categories:
Collections:
Imagez I Like
,
Splash Page
,
Money
,
Money Related Pictures
,
Money & Gold
,
Super Financial Collections
,
Money. Coins. Banknotes.
,
Money Money Money
,
Money And Business
,
Bank Related
,
Money
,
Schedules, Graph And Money
,
Money
,
Economy
,
Dreamstime Selection
,
Business - EMail Marketing And SEO
,
Money
,
Money, Finance, Business
,
Business And Money
,
Money Of The World