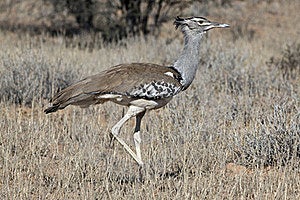 The Kori Bustard (Ardeotis kori) is a large bird native to Africa. It is a member of the bustard family and the heaviest bird capable of flight. Kgalagadi Transfrontier Park, Kgalagadi, wildlife park, Kalahari, wild animal, animal, wild animals, colour, wildlife, South Africa, Africa, Botswana, outdoors, scenic, nature, conservation, Southern Africa, travel destination, tourism, colour image, photography, nobody, grass, sand, bird, kori bustard, feathers, beak, eye, tail, legs, Ardeotis kori, gompou,
© Awiebadenhorst | Dreamstime.com
ID: 15466827 Level: 1
Downloads: 0 / Views: 816
We`re sorry,
this image is no longer available for sale...
Our search engine is sad too when it tries to fetch images that have been recently removed.
Royalty Free images such as Kori bustard in the Kgalagadi can be used and modified for web designs (websites, headers, icons, banners), advertisements (flyers, brochures, posters), powerpoint presentations, book covers and pages, CD covers, software applications (apps) and many more. Worldwide rights/unlimited projects up to 500,000 printed copies (unlimited online).
May we suggest some similar stock images?