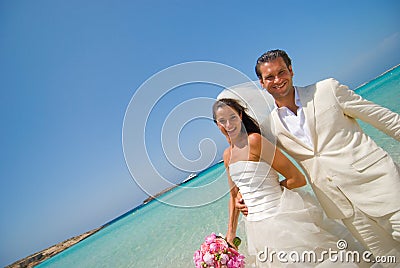 Beautiful happy young couple on romantic beach after wedding ceremony. Bride and groom smiling at camera, bright sunny day. Photograph taken with wide angle lens, vertical and diagonal horizon. Sharp at couple. Copy space.
Stock photography categories:
Collections:
Wedding Collection
,
Wedding People, Couple And Things
,
Wedding
,
A Day At The Beach
,
Bride On Wedding.
,
Dreamstime Selection
,
Love Is In The Air
,
BEST WEDDING COLLECTION
,
THE WEDDING COLLECTION
,
Wedding Collection
Other stock images with these models